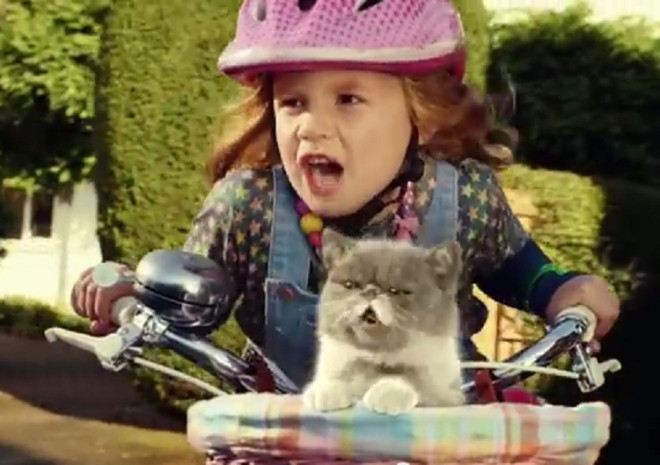 First we had a moonwalking pony now we have a child and a singing cat.
Mobile phone company Three, is following hot on the heels of internet sensation, Socks, the Shetland pony with another hysterical advert.
The pony bopped to the sounds of Fleetwood Mac's Everywhere on the Scottish highlands, then nearly moonwalked off one of the cliffs and went viral receiving nearly 8.5 million YouTube views.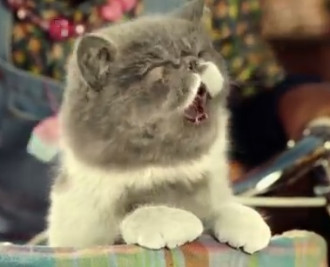 We now have an impassioned child and cat singing at full pelt to Starship's 1985 power anthem We Built This City.
Manchester child model Jolie Forest aged five takes her bicycle out with her seven-month feline grandly named Simcris Bronte Bronjoy.
She is cycling as she sings along to the 1985 power anthem, with backing vocals, of course being supplied by Bronte.
She whizzes past a pensioner, disturbs a flock of seagulls and as the music reaches the end, punches her fist in the air in triumph as she cycles home.
Tom Malleschit, marketing director at Three, said: "Last year we were blown away with the runaway success of our moonwalking pony, Socks.
"As the network built for the internet, we understand people's behaviour online and know that cute, silly, or unexpected images and videos are what make people tick. We are very excited to launch this advert and hope it will simply bring a smile to your face when you watch it."
The advert was created by London advertising agency Wieden and Kennedy and first aired on ITV's This Morning. Fans can star in their own version of the advert by signing up to www.SingItKitty.co.uk