If Tidjane Thiam is anything, it's a survivor.
Because the man who has just been announced as the new boss of Credit Suisse not only had to overcome a military coup in Ivory Coast, but also a disastrous takeover bid in his early days as chief executive of insurance giant Prudential, two events that would have finished most people off.
Thiam, 52, is a remarkable man with a remarkable backstory. His father rose out of poverty through education to become a government minister of information in the Ivory Coast, before being imprisoned when his son was just 14 months old on trumped-up charges of plotting to oust the country's president. He was soon released and went on to become the Ivorian ambassador in Morocco.
By contrast, his mother was a woman of high social standing and the niece of the long-reigning Ivory Coast president Felix Houphouet-Boigny. Despite not being able to read or write having not had a formal education – the upper-classes did not send their children to French schools out of indignation at their occupiers – Thiam has described her as the "smartest person I ever met". She raised seven children, including Thiam, all of who went on to achieve a PhD or equivalent.
Queen Yamousso, after who the major Ivorian city Yamossoukro is named, is Thiam's great grandmother on his mother's side.
Thiam was nicknamed "the last hope" by his siblings because none of his four elder brothers had managed to win a place at the Ecole Politechnique in Paris as their father had dreamed. Thiam passed the entrance test and won his place at the school.
Via engineering school in Paris and an MBA from the Insead business school, Thiam started out in 1986 working at the consultancy McKinsey & Company in France and New York. He soon returned to the Ivory Coast to serve as a technocrat in the government of President Henri Konan Bedie - at his invitation - overseeing a number of economic and development briefs. He was charged with ending the endemic corruption around public contracts, work he was successfully carrying out – at some personal risk, given the power of the murky people he was cracking down on – when it came to an abrupt end.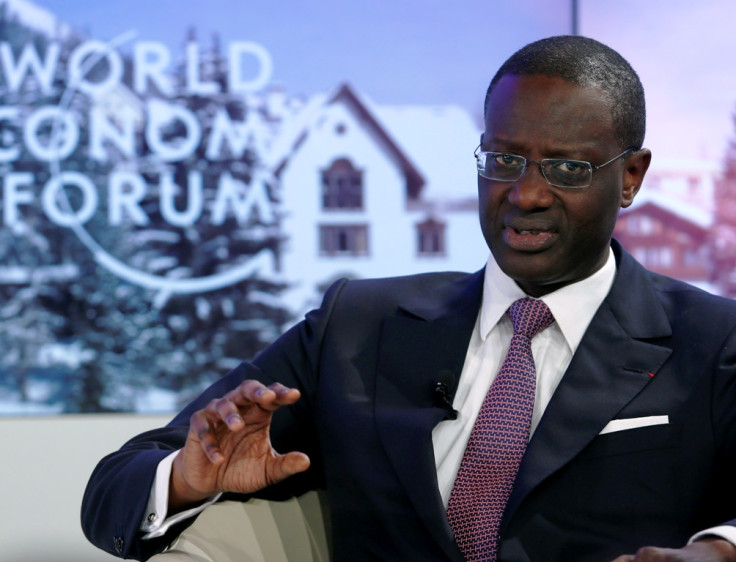 In 1999, President Bedie was overthrown in a coup led by General Robert Guei. Thiam, was asleep in Paris at the time, received a call from his chief of staff, as gunshots rang in the background, to inform him of the coup. His return to the Ivory Coast, where government officials were being arrested, was demanded. Against the will of his wife, Thiam boarded a plane and returned to Africa.
"I felt indebted to the people who worked for me," Thiam told BBC Radio 4's Desert Island Discs programme in 2012.
"My PA had gone in the middle of the night to my office to stop the rebels looting with her bare hands. So I would have felt pretty lousy if I said I have a French passport so I don't have to come back."
Thiam was offered another economic role, this time in General Guei's government. He politely declined. Later on he would once again be offered the chance to return to Ivory Coast politics, this time as prime minister and by a different president. Again he would decline. He later said that he did not believe in violence in politics and too many people in the Ivory Coast – which has suffered years of fighting in a struggle for power – believe the means justify the ends.
He was once again at McKinsey in France, before joining the insurance firm Aviva in 2002 as a managing director, before rising to the position of Europe chief executive. He later joined Prudential as chief financial officer in 2008, before going on in 2009 to become chief executive of the whole operation – making him the first ever black boss of a FTSE 100 company. According to Bloomberg Businessweek, Thiam was on a pay package worth £8.6m a year in 2013.
But it was at Prudential that Thiam faced one of his life's biggest challenges. He led the botched takeover bid for Asian insurance rival AIA for $35.5bn because Prudential shareholders voted the deal down, unconvinced by the value. A subsequent $30bn offer was rejected by AIA's parent company AIG. The whole process cost Prudential shareholders £377m and the firm was fined £30m by financial regulators in Britain – who must approve any takeover deals – for failing "to deal with the FSA in an open and cooperative manner".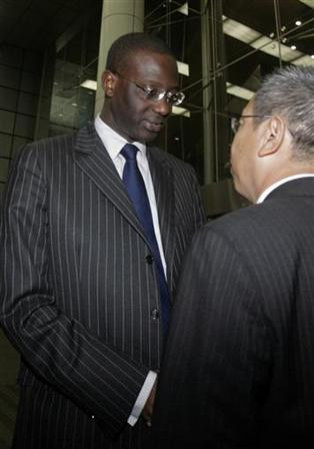 Somehow, Thiam survived the whole thing when shareholders held their nerve by continuing to back him as Prudential chief executive. He rewarded their loyalty by overseeing a 211% rise in Prudential's share price since 2010. And the insurer reported a 60% rise in annual pre-tax profit to £2.6bn in 2014. Now the Swiss investment bank Credit Suisse, which has been hit by a number of scandals and fines in recent years, has poached him.
Outside of his professional work, Thiam supports African development initiatives. His Prudential profile says he is a member of the Council of the Overseas Development Institute (ODI) in London, a member of the Africa Progress Panel chaired by former UN chief Kofi Annan and a sponsor of Opportunity International. He also received the Légion d'Honneur in 2011, presented by the French president Nicolas Sarkozy.
Thiam, who is married with two sons, is also a big Arsenal fan. He told Desert Island Discs that during a panel discussion with the Arsenal manager Arsene Wenger, he raised his disapproval of his team's tactics and urged Wenger to buy a better defence. Thiam described it as a "diatribe" against Wenger, to which the Arsenal boss responded by telling him he knew nothing about football.
Credit Suisse may want to keep a close eye on Thiam and pay him well enough that he won't stray elsewhere. It has been previously suggested that, should the political situation in the Ivory Coast calm down, he may seek a return to government and Africa, where his heart lies.
"I think he will wait until there is a true democratic government in place here before he think about coming back," Aka Manouan, an old school friend of Thiam and now general secretary of the Ivory Coast's National Bureau of Technical Studies and Development, told The Telegraph in 2011.
"We hope that he will come back because we think, like he has said himself, it's only Africans who can develop Africa, it's our business."