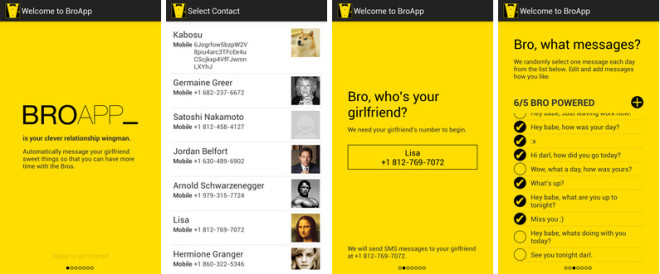 Calling all lazy, forgetful and disilluisioned boyfriends: a new app offers you the chance to relax with "seamless relationship outsourcing" in the form of default messages and fake gift ideas.
BroApp, currently available for Android smartphones on the Google Play store, offers a list of automated messages such as "Hey babe, how was your day?", "Miss you :)" and "Wow, what a day, how was yours?"
You can also type in your own messages from scratch, and allow the app to send it as a default love note for a more (but still not especially) personal touch.
The app then offers you options to schedule when to send out each message, with options like, "When I leave work around 5pm". It even notes when you send your girlfriend actual text messages, and waits a while before sending another scheduled text message.
Your girlfriend's house is a "no Bro" zone
Of course, this genius strategy could come unstuck if the app sends a text when you are actually in the company of your other half. But fear not: BroApp asks users to identify several Wi-Fi networks as a way of knowing where you are. If you're at your partner's home on their Wi-Fi network, the app will know not to send any scheduled text messages at all.
Even better, if your significant other gets hold of your smartphone and wants to look at the app, it has a special "Girlfriend Intrusion Detector" that brings up a fake interface showing a list of gifts you're planning to buy your partner to throw them off.
"We know that people are busy and sometimes forget to send enough love to their partners. We invented BroApp so that even if you forget to manually write a message, your love is still communicated," BroApp's Australian creators said.
An iPhone version of the app is currently being worked on and you can register here to be updated when it becomes available on the iTunes app store.