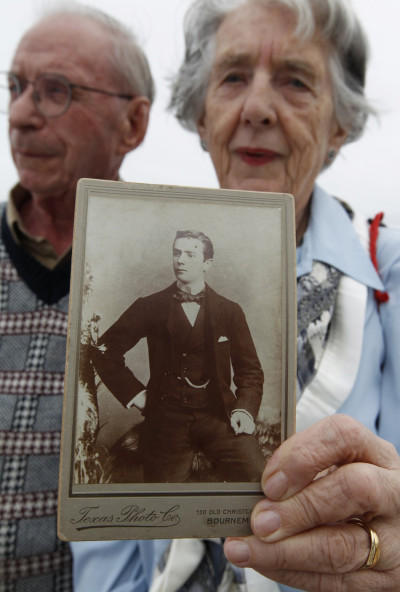 Some memories can never be forgotten!
The Titanic tragedy is one such... especially for those affected. A century after the tragic incident, the world is commemorating the disaster that struck during the early hours of 15 April, killing over 1,500 passengers and crew on board.
The ship hit an iceberg when all the passengers were sleeping and unaware of the danger that lay ahead of them. To remember the journey and pay tributes to those affected, a cruise ship, the Balmoral, carrying 1,300 passengers has undertaken the same journey as that of the RMS Titanic. The ship will hope to reach the point where the tragedy struck exactly at the same time as RMS Titanic arrived all those years back.
The cruise started on Sunday, 8 April, from Southampton, where the relatives of the affected threw flowers on the ship. A video of the original Titanic leaving the port was played before the Balmoral left the docks.
"I enjoyed the ceremony which was tasteful and moving. It was a worry during the anniversary that the families would be forgotten in all the razzmatazz like the cruise that left a few days ago, but this was lovely," Vanessa Beecham, who paid tribute to her uncle who died in the Titanic tragedy, told the Mirror.
According to the Hindustan Times, the ship's captain will announce a collision and a distress call will ring out, when the Balmoral reaches the site of the tragedy. Passengers then plan to throw wreaths into the sea at 05.20 GMT, the time that the ship sank and where the drama unfolded... about 800 kilometers (500 miles) southeast of Halifax.
"My great-great-grandparents, my grandmother and her sister were booked to travel on the Titanic. Their destination was Canada, where they wanted to start a new life. But then there was a family argument and it was decided to leave in the fall, rather than ... spring," Wendy Burkhart, a British Columbia resident said, remembering her family was saved from the catastrophe.
The Mirror reports that each of the passengers had to pay around £6,000 for the cruise retracing the original Titanic's voyage and to finally see the site where the tragedy stuck. Many of them were dressed in 1900s style for the cruise.
Check out these photos straight from the Balmoral...