Tokyo Ghoul manga blamed for growing skin embroidery trend in China
Chinese media say trend involving youths sewing threads on skin might be inspired by Japanese comic books.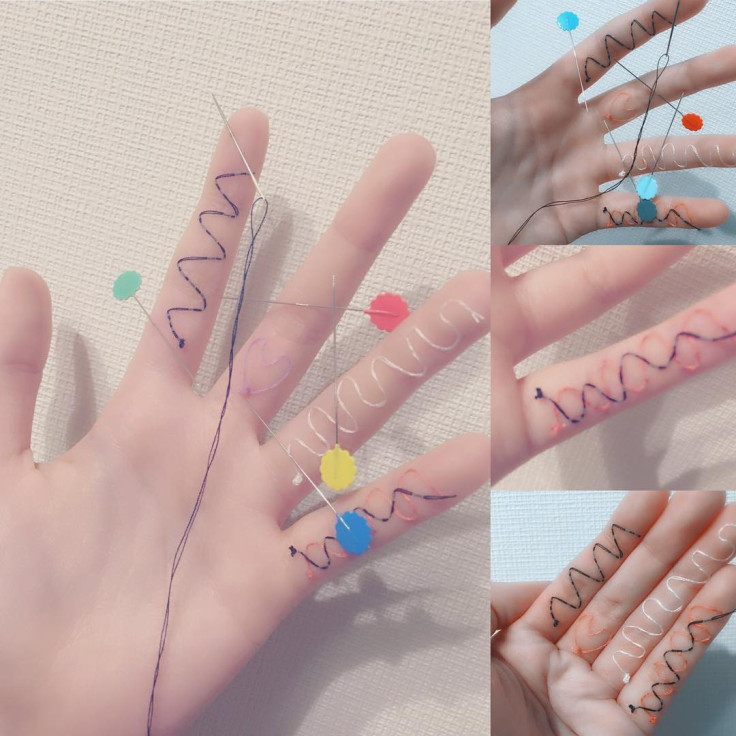 A Japanese manga has been blamed for a self-harm craze in China, in spite of the fact Beijing banned both the graphic novel book and the anime (animated series) based on it.
Earlier in June, Chinese media warned parents over a growing trend that see youths stitching patterns onto their skin and posting pictures on microblogging website Sina Weibo. Images show colourful threads sewn on people's lips, hands and legs. Some people also added decorations, such as beads and ribbons.
Chinese media warned the trend is "secretly spreading" among youths and urged people to refrain from emulating the practice as it may cause viruses and infections such as septicaemia, a potentially life-threatening blood infection.
Some media suggested the practice could have been inspired by Tokyo Ghoul, one of the best-selling fantasy manga series in Japan.
Some Tokyo Ghoul characters appear with stitches on their bodies and faces.
Tokyo Ghoul was banned in China as it contains scenes of violence and crimes "against public morality", according to reports. However, it seems that Chinese youths still have access to it.
State-run news site People's Daily said the human-body embroidery game is "nothing new" among cosplayers – people who wear costumes and fashion accessories to resemble characters – and manga lovers.
"It allegedly originated from the character Juzo Suzuya from the Japanese dark fantasy 'Tokyo Ghoul," the site explained. "In the manga, Suzuya engages in this self-stitching habit using red thread, which he explains is a form of 'body modification'".
Some have also linked the popularity of this trend to the so-called "Blue Whale", a controversial social media "suicide challenge" linked to dozens of deaths in Russia. The suicide challenge has become popular in China in recent months, prompting authorities to tighten controls. At least one person was arrested and charged with "spreading extremism" after allegedly posting online images encouraging acts of self-harm.
'Trend is spreading'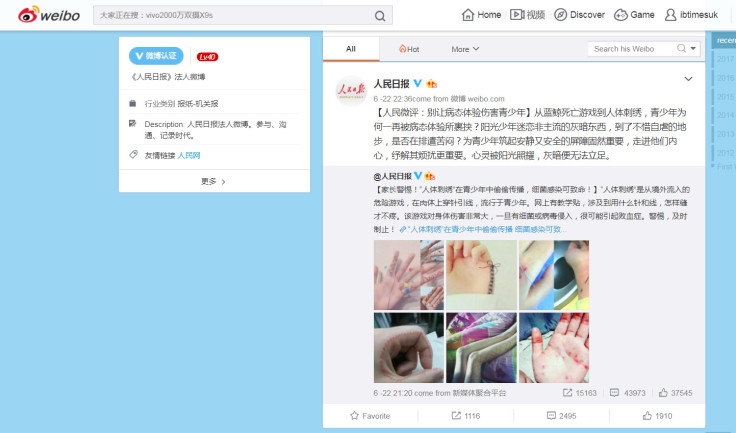 It is believed the skin embroidery trend is now spreading among non-cosplayers, with People's Daily saying "tens of thousands of posts" on human-body embroidery can be found online.
"Many carefully record the 'creation' process, complete with photos to illustrate their posts. This exhibition is praised and encouraged by other members of the forum," People's Daily said .
However, others have reacted with outrage to the posts, with people deeming the practice as sick and amounting to self-harm.
Fans of Japanese manga and anime seem to disagree with the fact characters could lead people to engage in self-harm practices. Some have pointed out that the perceived seemingly growing trend could just be a way for teenagers to attract attention on social media.
Others believe the practice is restricted to a small amount of people.
"Tokyo Ghoul's [is kind of ] getting momentum in the West as the anime [TV series] is popular and the manga [comic book] is riding up the charts, but I would have definitely heard something like that, considering it's one of my regular reads," Elliott Francis, a 29-year-old actor and fan of Japanese anime and manga, told IBTimes UK.
"I feel, maybe one person might have emulated it, but not groups of people. I have never heard of such a trend and, if it was true, it would be relevant to maybe a few individuals," he continued.
© Copyright IBTimes 2023. All rights reserved.