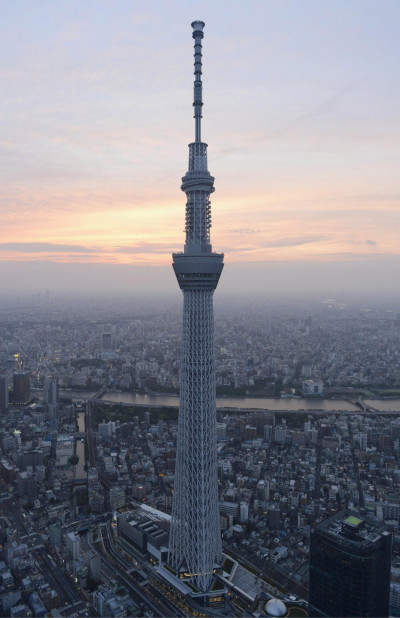 The much-awaited Tokyo Skytree, recognised as the tallest tower in the world by the Guinness World Records, was opened to the public on Tuesday as clouds hovered over the Japanese capital's new landmark.
At a whopping 634 metres (2,080 feet) height, the Tokyo Skytree is the world's tallest broadcasting tower, replacing the Canton Tower in China, which is 600 metres (1,968 1/2 feet). The Skytree replaces the other broadcast tower of Japan – the 333-metre-tall (1,092 1/2-foot-tall) Tokyo Tower — which has been a symbol of the country since 1958.
Skytree Tower has also become the second tallest structure in the world, after Burj Khalifa, world's tallest skyscraper in Dubai.
About 200,000 visitors thronged the Tokyo Skytree on the opening day with those who booked entry tickets in advance getting inside and up the tower to get a panoramic view of the city from the various observatory decks, local media reported. The observation decks are open from 8 am to 10 pm.
The Skytree, besides being a broadcast tower for television and radio, is also expected to grow as a popular city hot spot and tourism attraction in Tokyo. The city tourism hopes the tower will bring the plummeted number of foreign tourists since last year's earthquake and tsunami, up.
Skytree's first observation deck, Tembo Deck, is at 350 metres and boasts of leisure and entertainment areas having restaurants and shopping places. The second observation deck, Tembo Galleria, rises 450 metres high and is covered in glass, offering a 360 degree panoramic view of the city. The deck has the world's highest skywalk.
Tokyo Skytree Web Tickets
Tokyo Skytree Web tickets let one get to the tower's observation decks. The Web tickets are available for purchase in advance online from 22 May to 10 July. Only credit cards issued in Japan are accepted for online reservations.
Advance reservations for groups of 25 or more are accepted, and Tokyo Skytree authorities advise to use public transport only to visit the tower.
Start the slideshow to view the first pictures of Tokyo Skytree, the world's tallest tower, unveiled in Japan.