Tom Cruise has admitted he is terrified of performing his own stunts.
The actor is famed for performing death-defying feats, without appearing to break into a sweat but the Hollywood star revealed that hanging off the side of an aircraft as it takes off was almost a 'Mission Impossible', even for him.
He reprises his role as Ethan Hunt in Mission Impossible: Rogue Nation, the fifth instalment in the global franchise.
In a behind the scenes look at the making of the movie, he reveals the terrifying moment he clings to the side of an aircraft as it takes off at around 160mph.

Stunt coordinator Wade Eastwood, who is the brains behind the high octane feats in the film, explains that it was all Cruises' idea. "Why hang a multimillion dollar star on the outside of an aeroplane and fly around in the normal world? But Tom wanted to be on the outside of that plane."
He adds that if the stunt were to go wrong, the consequences would fatal. "There's no little crash and a splash; you're dead".
The 53-year-old star, who has previously scaled the Burj Khalifa and hung from a cliff edge by one hand, admitted to a bout of nerves ahead of the stunt. "I couldn't sleep the night before," he said. "And then came the day. I was like "OK, this is really going to happen".
As shooting the dangerous sequence begins, it is revealed that Cruise is only supported by a very thin cable as he scales the A400m Atlas military transport plane.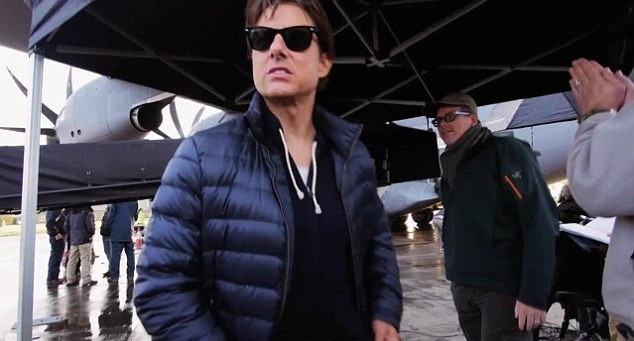 "If something went wrong, I can't get into the aeroplane till we land," he explains.
As the plane accelerates to take-off speed frighteningly fast, Cruise admits: "I'm feeling the force of the wind hit me. I'm actually scared s**tless."
But despite his apprehensions, once wasn't enough for the adrenalin junkie, who didn't stop till he got it exactly right.
"I kind of thought that was a one take... but he did it eight times," visual effects supervisor David Vickery revealed.
Cruise stars in three major movie sequels - Mission Impossible, Jack Reacher and Top Gun.