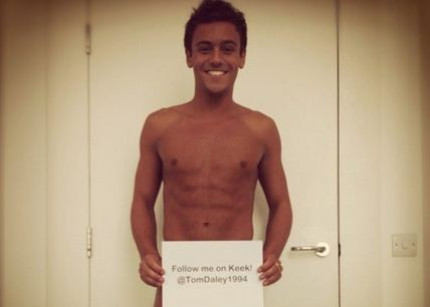 Tom Daley, the Olympic medal winning diver has treated his fans with a naked picture of himself on Facebook, Twitter, as well as Lockerz ( an International social commerce website) asking them to follow him on Keek. It is a free online social network, which enables the users to upload video as updated status.
For promoting his Keek page, Daley posted a smiling picture self and covering his modesty with just a piece of paper with the caption: "Follow me on Keek! @TomDaley1994". The 18 year old left the same message to his fans on the other social networking sites saying, "Cheeky pic ;) everyone follow me on keek! You will love it :D."
He also posted a video of himself getting a haircut on his official Keek page.
Daley who is a keen social networker with almost two million followers on Twitter, previously had a bad experience with one of his fans. Daley and his partner Pete Waterfield missed out on a medal, after finishing fourth in the men's synchronised 10m platform diving event at the Olympics. Shortly after the event, Daley received a message from twitter from user Rileyy_69 which said: "You let your dad down I hope you know that."
Daley responded by retweeting the message: "After giving it my all...you get idiot's sending me this..."
However, when news of the malicious tweet spread, the teenager apologised for his behaviour.
Daley's father Rob died of brain tumor last year.
"Winning a medal would make all the struggles that I've had worthwhile," the Plymouth diver told the BBC then, "It's been my dream since a very young age to compete at an Olympics. I'm doing it for myself and my dad. It was both our dreams from a very young age. I always wanted to do it and dad was so supportive of everything. It would make it extra special to do it for him."
Meanwhile, Daley is enjoying the celebrity status and was recently spotted with One Direction band member Liam Payne for a Halloween party held at the Funky Buddha Nightclub in London.
The 19-year-old 1D singer dressed up as Batman while Daley opted for Penguin costume with a skeleton mask. "Batmannnn and zombiee," Paynetweeted, while Daley added, "Happy Halloween!!! Here is my costume :D"