Tom Gullick Breaks Birdwatching Record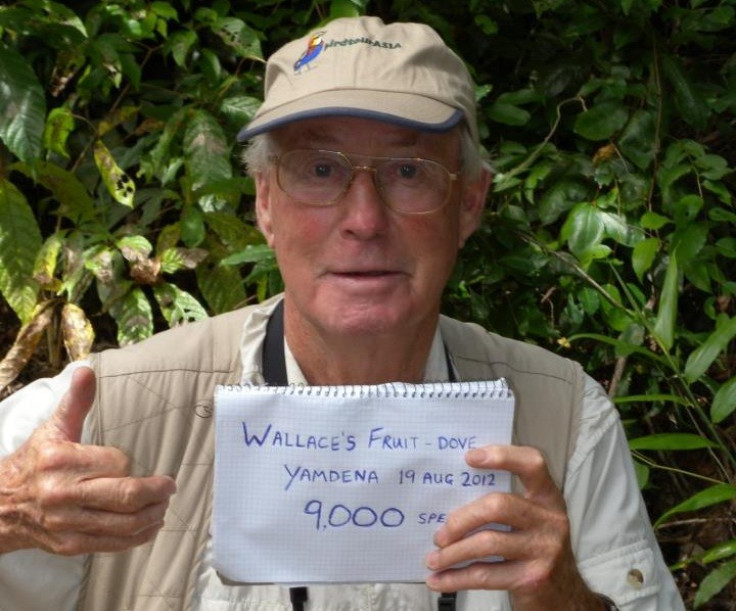 British-born Tom Gullick has broken a record after spotting his 9,000<sup>th species: a Wallace's Fruit-Dove.
In total, Gullick has spotted 9,047 birds. He broke the record during a trip to Yamdena, in the Tanimbar Islands of Indonesia, on 19 August.
Gullick has been the world's top 'lister' - a term for someone who keeps a list of all the birds they have seen - since 2008.
According to the Independent, the 81-year-old still has around 1,500 bird species to spot before he has seen them all, but he believes his new record is quite sufficient.
He is quoted as saying: "I'd been trying hard to get there over the years. Enough is enough."
In a 2010 interview with the Financial Times, Gullick said he did not think he would reach the 9,000 milestone. "I don't think I'm going to add much on to where I am now, at the age of 79. I doubt if I'll get to 9,000," he said.
"I've had a knee operation so I'm not too good at climbing hills the way I used to, or climbing trees. But it really won't fuss me that someone will overtake me - I have been number one for quite a long time."
Before Gullick became the record holder for bird spotting, the title was held by an American named Phoebe Snetsinger. She had seen 8,398 species at the time of her death in 1999.
Speaking about his passion for birds, Gullick told the Financial Times: "The pleasure is in the challenge and the achievement, the thrill when you see the bird. I don't have a favourite bird, I don't think of it in those terms. One likes them all."
© Copyright IBTimes 2023. All rights reserved.