The England and Wales cricket board have reacted to evidence that Surrey cricketer Tom Maynard regularly took drugs prior to his death last June by stating out of competition testing will now include checks for recreational drugs.
Westminster Coroner's Court on Tuesday heard that Maynard, 23, was killed last summer after being electrocuted on a live rail track and then subsequently hit by a tube train.
A pathologist report indicated the Surrey and England Lions star was four times over the limit and had taken cocaine and ecstasy as he fled from his Mercedes car after being followed by police, prior to running onto the track, while hair samples suggested Maynard was a regular user of the substances.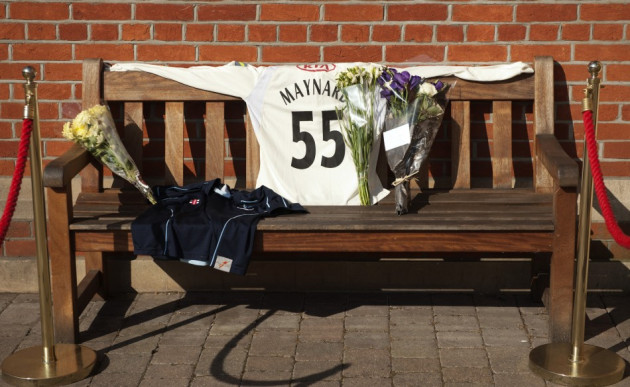 A joint statement by the ECB and Surrey said: "While the ECB accepts that recreational drug use is a part of modern society, we do not condone it and will take all reasonable steps to prevent its use within the game.
"The ECB Board has recently agreed to develop an out-of-competition testing programme to encompass recreational drugs, in co-operation with the PCA.
"These measures will supplement ECB's existing anti-doping programme which involves in- and out-of-competition testing through UK Anti-Doping in compliance with the WADA (World Anti-Doping Agency) Code and financial support which ECB provides to PCA for player education and support programmes.
"The ECB's testing programme applies to all registered County players and up to 200 tests are carried out on average each year. This approximates to around 35-40 per cent of the overall number of registered professional players.
"England players are tested in addition as part of the ICC's own anti-doping programme for all international cricketers which are also WADA compliant. To date, no England player has tested positive under these programmes."
England bowler and Surrey teammate Jade Dernbach, former captain at The Oval Rory Hamilton Brown and girlfriend Carly Baker all told the court they were unaware of Maynard's previous encounters with drugs.
Abdur Rehman was handed a 12-week ban in October 2012 after testing positive for cannabis while at Somerset, the only player to be reprimanded for such an offence during the in-competition testing phase.
Coronor Fiona Wilcox called for tighter rules surrounding tests for recreational drugs: "I wonder if it could begin, and should begin more generally in the sports world."