Labour deputy leader Tom Watson has accused Momentum founder Jon Lansman of plotting to "destroy" the party with a potential deal between super-union Unite and the pro-Jeremy Corbyn pressure group.
Watson confronted Lansman over Twitter after The Observer published a tape of his comments to a new Momentum branch in south-west London in March.
"Assuming that [Unite chief and Corbyn ally] Len McCluskey wins the general secretaryship, which I think he will, Unite will affiliate to Momentum and will fully participate in Momentum, as will the CWU [Communication Workers Union]," Lansman reportedly told the activists.
Watson said. "Sorry, Jon, you're a good man, but I don't buy your lines any more. I've heard that recording. It's very clear.
"You said you want to change selection rules for MPs and councillors. That Unite will affiliate to Momentum, that Momentum members should organise in the GMB and Unison that you want a lower nomination threshold for leader [and] that Momentum should 'take control' of regional Labour parties. You know there could be an election soon, right?
The deputy leader added: "You've revealed your plan. If you succeed you will destroy the Labour Party as an electoral force, so you have to be stopped."
Lansman, a former aide to Tony Benn and Michael Meacher, hit back by claiming that the left-wing of the Labour Party has been "denied a voice" for 20 years.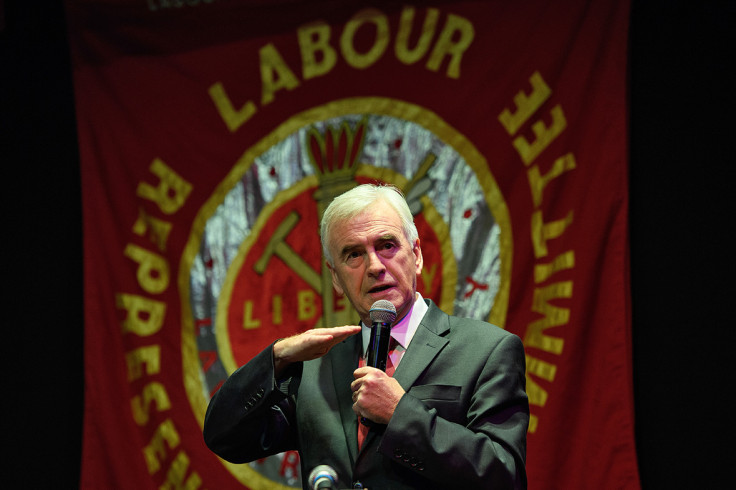 "We will deny a voice to no-one," he said. "We face big challenges and we need our mass membership to win again. Labour first campaigns on same things in the same way – though we want our representatives to reflect members' wishes. But we'll both fight for a Labour victory."
Momentum was formed out of Corbyn's successful Labour leadership campaign in 2015 and now has around 22,000 members. The left-wing group decided to bar non-Labour members from joining its ranks in 2017 amid entryism fears.
A Unite spokesperson said: "Affiliation to Momentum is a matter for our executive council alone and no discussion on the matter is scheduled."
The row comes after Labour's historic loss to the Conservatives at the Copeland by-election in February. It was the first time since 1982 that the opposition had lost to a government in a by-election.
The latest national opinion poll from ComRes for The Sunday Mirror, of more than 2,000 people between 15 and 17 March, put the Conservatives on 42%, Labour on 25%, the Liberal Democrats on 12% and Ukip on 10%.