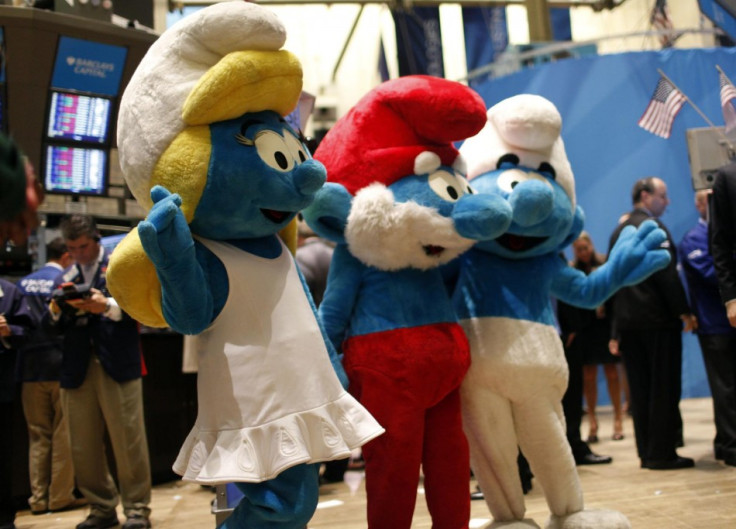 A PR company has been criticised for cropping the female "Smurfette" from a film poster advertising the forthcoming Smurfs: The Lost Village title, in a bid to appease an ultra-Orthodox Israeli neighbourhood.
Native PR company Mirka'im-Hutzot Zahav – which is responsible for promoting the movie in the region – told Haaretz that women are not portrayed on public posters in the Tel Aviv suburb of Bnei Brak.
Original posters for the impending Smurfs film featured topless male Smurfs Brainy, Clumsy and Hefty, alongside afully-clothed Smurfette, the only female character, voiced by Demi Lovato.
The 180,000 strong province, dominated by ultra Orthodox Haredi Jews, has previously seen Jennifer Lawrence omitted from Hunger Games movie posters, and even Peter Pan's Tinkerbell removed from advertising to ensure locals are not offended.
Although some areas of Israel are extremely liberal, a number of Haredi areas have engaged so-called "modesty wars", leading to signs warning women to dress appropriately.
Former Democratic presidential nominee Hillary Clinton did not have her image printed in the ultra-Orthodox media during the 2016 campaign, while German Chancellor Angela Merkel found herself edited out of pictures from a solidarity march of world leaders commemorating the 2015 Charlie Hebdo attacks.
Other Orthodox Jews disagree with the stance of the Haredi, erecting images of women and even taking members of the hard-line sect to court.
However, the Haredi influence is believed to be growing. According to some estimates, by 2030 almost one in five Israelis will follow the interpretation.
According to the Mail Online, Israel Religious Action Center said the decision to censor the movie posters was an "absurd example of excluding representations of the female form.'' The organisation tweeted: "Smurfette. She's a cartoon ppl!"