The manipulation of the world's most important interbank lending rates by the globe's biggest banks is undoubtedly the largest scandal to rock the world in recent history.
The key lending rates in London (Libor), Tokyo (Tibor), the eurozone (Euribor) and potentially in Singapore (Sibor) were not exactly well known terms in every day households but now everyone knows that the rates are linked to trillions of dollars worth of products, including pensions, mortgages and credit cards.
What households also now know is that banks and traders across the world have sought to rig rates for personal financial gain, time and time again.
In 2012, Barclays kickstarted the revelations after becoming the first bank to settle with US and UK authorities for Libor and Euribor fixing.
Six months later, UBS agreed a record $1.5bn fine with US, UK and Swiss authorities and also admitted to one count of wire fraud relating to rigging rates in Yen.
Transcripts of trader conversations around celebrating their wrongdoing with Bollinger champagne and calling each other "big boy" did nothing to steer the image away from banking culture stereotypes.
However, in 2013, bank after bank joined in the ranks for having traders that sought to rig rates for years at a time.
Naturally their PR machines have gone into overdrive and have been quick to say that these are isolated incidences within the wider company framework, despite politicians, independent experts, and others blaming the banking culture for allowing such behaviour to occur.
The Royal Bank of Scotland (RBS) revealed in February this year that a number of traders had tried to manipulate rates for personal gain and was fined £390m.
RBS subsidiary, RBS Securities Japan Limited, also pleaded guilty to one criminal charge of wire fraud.
The group's CEO Stephen Hester was ousted and RBS' investment banking chief fell on his sword.
In September this year, Icap was ordered to pay £55m to US and UK authorities after a significant number of brokers, including two managers, attempted to rig rates between October 2006 and November 2010.
One month later, Dutch lender Rabobank followed suit. It also lost its CEO.
In October, Britain's Serious Fraud Office revealed in court that another 22 people could face criminal charges related to the manipulation of Libor.
But it looks like that a number of banking giants won't be having a very merry Xmas.
In December, Barclays, Deutsche Bank, Société Générale, RBS, UBS, JPMorgan, Citigroup and RP Martin were fined a combined total of €1.71bn by the European Commission for rigging the key benchmark interest rates Libor and Euribor.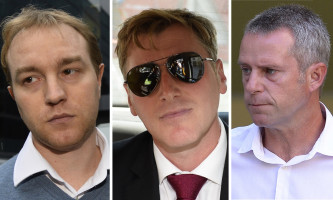 With many other investigations are still underway, it looks like Libor fixing revelations will still be rife in 2014.
A number of traders and brokers are currently in court over charges of fraud.
Former UBS and Citigroup trader Tom Hayes and two former RP Martin brokers Terry Farr and James Gilmour appeared at a plea hearing on 17 December and plead not guilty.
The three are the first to face trial under the SFO's probe into Libor manipulation since the scandal broke out in 2012.