Top Reasons Why Apple Could be Secretly Working on 3D Technology for Future iOS Devices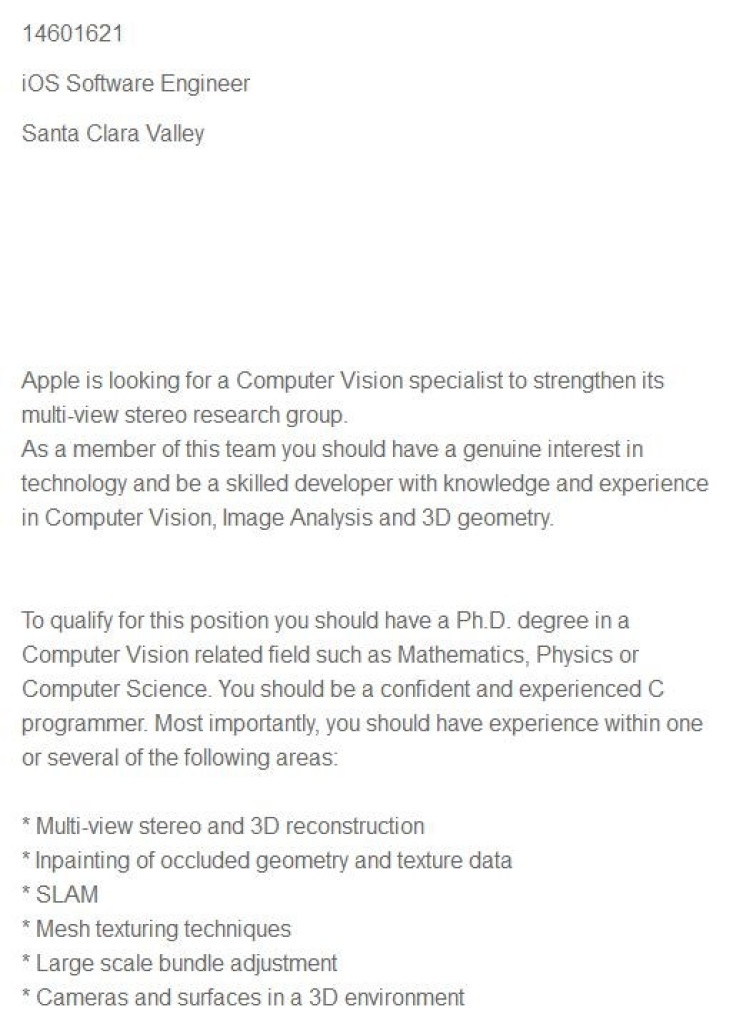 Over the years, Apple has been secretly working on 3D technology with plans of securing lucrative business opportunities in this promising market. A new job opening that surfaced on Apple's career listing further strengthens these claims. The job advertisement clearly hints that Apple is seriously pursuing 3D technology for its plethora of products.
"Computer Vision specialist to strengthen its multi-view stereo research group," reads the job advertisement on Apple's career website, according to 9To5Mac.
"A Ph.D. degree in a Computer Vision related field such as Mathematics, Physics or Computer Science and requires the applicant to have a genuine interest in technology and be a skilled developer with knowledge and experience in Computer Vision, Image Analysis and 3D geometry," the listing continues, highlighting desired candidate profile and qualifications.
In recent years, Apple has filed various technology patents pertaining to 3D technology, which prompts us to believe the company is on the verge of investing huge resources for the development and advancement of 3D technology.
Following the footsteps of LG and HTC, who released iterations of handsets with 3D cameras and passive 3D displays, Apple has purchased patents on experimenting with 3D GUIs and is also reportedly working on a 3D camera among other things. Meanwhile, the Cupertino tech-giant also acquired C3 Technologies, a company renowned for 3D mapping applications, in October.
The new job opening with Apple now hints at a dedicated position for working on integrating 3D maps into the iOS software. To further strengthen claims of Apple's transformation, a change from Google Maps in iPhoto applications has been reported.
This belief is further boosted by one of Apple's requirements for the job listing, entitled Simultaneous Localisation And Mapping (SLAM). This technology uses a technique used by robots and autonomous vehicles to build up a map within an unknown environment or to update a map within a known environment, while at the same time keeping track of their current location, according to iPhonehacks.
Although there is every chance that 3D technology could see the light of day in the near future, it is unlikely Apple will replace its signature Retina Display technology. If the proposed hiring of a software engineer does indeed happen, we may, however, see the advent of a product similar to 3DeeSlide or Apple might wisely borrow the 3D display concept from its rumoured iTV launch for other iDevices.
MUST READ: iOS 5.1 Untethered Jailbreak: New Status Update for iPhone 4S, iPad 2 and New iPad from Pod2g and Chpwn
MUST READ: iPad Mini: Top Reasons Why Apple Should or Shouldn't Launch the Smaller Tablet?
MUST READ: Sony PlayStation 3 3D Display Bundle Hits UK, Initial Stocks Sell Out

© Copyright IBTimes 2023. All rights reserved.