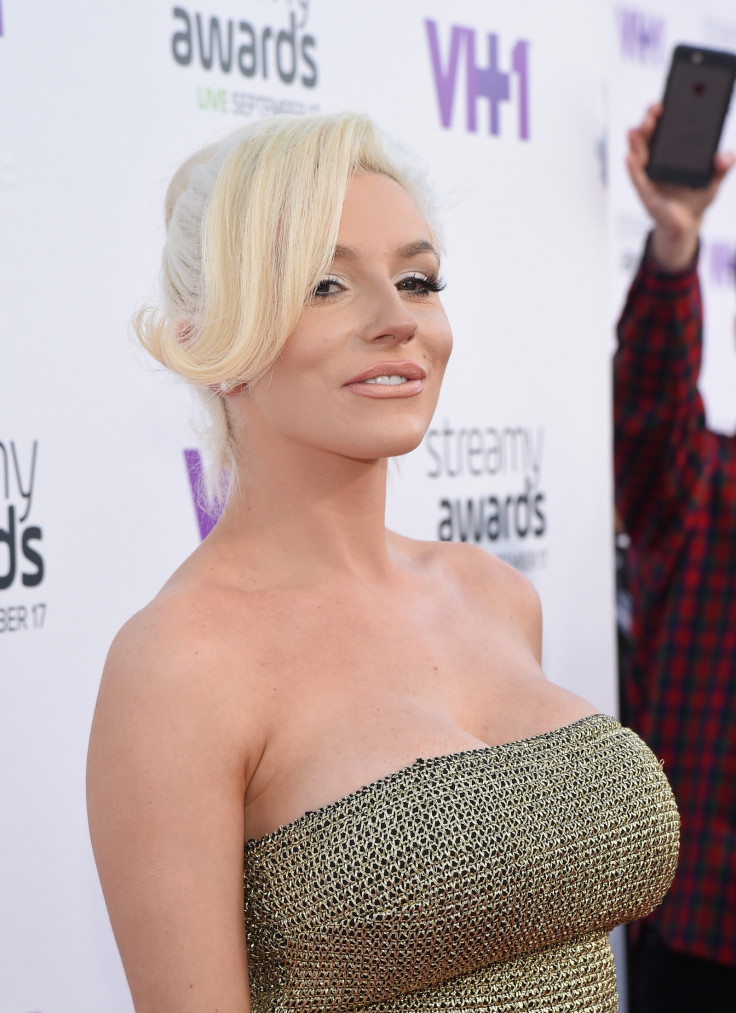 Courtney Stodden left little to the imagination during her recent beach trip to Los Angeles as she went topless while soaking up some summer sun. The reality star wears a barely there red bikini to flaunt her busty body as she frolics on the sandy beach with her pooch Cappuccino - an Italian greyhound puppy.
In one of the photos, published on Radar Online, the 23-year-old is seen sunbathing while her pet rests on her bare back. The former child bride wears full makeup and looks joyful as she flaunts her huge blonde tresses. Click here to see the photos.
Despite her sultry beach outing, Stodden continues to share melancholic posts on social media. "Amazing to b sad on your birthday," she tweeted on her birthday on 29 August. In another Instagram post, she shared a photo of herself looking cheerless and captioned it with: "Sadness is contagious."
Many of her 200,000 followers assumed that she is sad after her breakup with her much older husband Doug Hutchison (Stodden is 34-year younger to him). "I think you are missing Doug," a fan assumed. "Sorry to hear that you're not happy. Hope this dark cloud will move away and the sun shines in your life," added another.
"It's still really fresh, really new, emotions are really very sensitive. He's been there for me when nobody else was for six years. He's been my rock and ultimately my family," she told Radar Online explaining the heartbreak. The couple announced their separation seven months after Stodden suffered a miscarriage.
"We're working on a new movie that we are both going to star in together. Our relationship is really interesting, to say the least — because there are so many emotions. We are both heartbroken I guess and it's hard to be in each other's orbit because of that heartbreak. We've come so far together and for us to just choose to split and to still be collaborating on business, it makes for a kind of interesting dynamic," the Marilyn Monroe lookalike celebrity explained. She will soon appear on Million Dollar Matchmaker in an effort to find love.