Topless female Peta campaigners stage radical vegan protest at London Fashion Week
The young women boasted daubed powerful message on their torsos in black ink.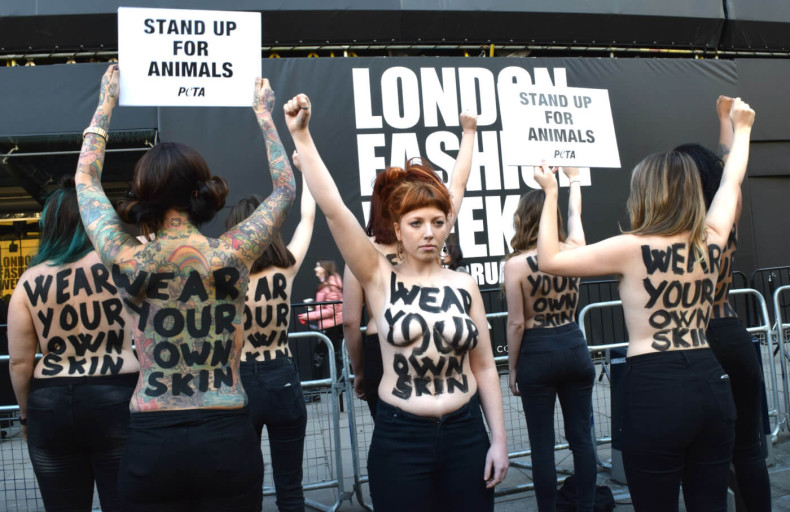 A group of female activists have staged a radical vegan protest at the start of London Fashion Week today (16 February).
The Peta flash mob called for everyone to wear their own skin, not animals, and attracted attention from onlookers by going topless.
The ladies, wearing black skinny jeans, braved the cold temperatures in central London without any clothing on their upper halves. Instead, the words, "Wear your own skin" was emblazoned across their torsos in big black ink.
They stood fiercely in front of a London Fashion Week sign as they threw their hands into the air, with some holding up posters proclaiming: "Stand up for animals/Peta."
"Whether it's the fur of a frightened fox or angora rabbit or the skin of a gentle calf, it's not fabric and it's not ours for the taking," says Peta Director Elisa Allen. "With so many innovative, high-quality vegan fabrics available, there's simply no excuse for wearing an animal's skin or hair."
As exposed by Peta, fur farms breed minks, foxes, and other animals that spend their entire lives confined to tiny, filthy cages before finally being killed by poisoning, gassing, electrocution, or neck-breaking.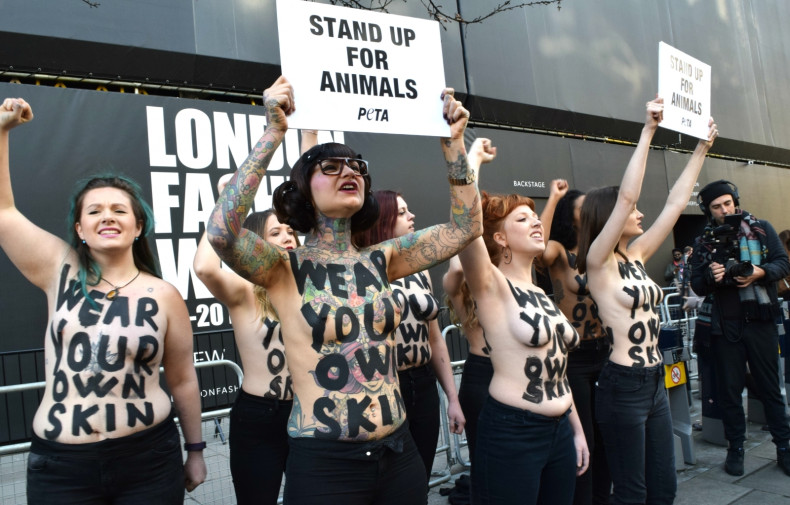 Other atrocities regularly exposed include cows destined to be slaughtered for leather enduring painful mutilations, branding, tail-docking, and dehorning without painkillers. In shearing sheds, sheep are cut, kicked, punched, and sometimes killed by impatient workers.
Fashion week has long been associated with fur-wearing fashionistas, but is a trend that is dying out, with 95% of designers opting for faux furs, including Burberry, Roland Mouret and Mulberry.
Among the most recent fashion houses to announce a switch to more ethical and sustainable alternatives are Gucci and Michael Kors.