Politically-motivated torture by the Burundi's intelligence services has reached new levels and has become increasingly vicious, Human Rights Watch (HRW) has claimed.
In April, the UK government called on the Burundian government to protect prisoners' human rights and stop abuses, after raising concerns about the treatment of prisoners in the African nation that has been rocked by deadly political violence for over a year.
Agents of the Burundian national intelligence service (Service national de renseignement, SNR) have allegedly increasingly been responsible for torturing and ill-treating scores of suspected government opponents taken into custody at their headquarters and in secret locations.
The United Nations reported 651 cases of torture in Burundi between April 2015 and April 2016, but the number of people tortured by intelligence agents across the country is most likely much higher than the number of cases, HRW said.
"Intelligence agents treat suspected opponents horrifically because they know they can get away with it. The government should call a halt to torture immediately," Daniel Bekele, Africa director at HRW, said on 7 July.
Officers used pliers to cut detainees' genitals, and pull out teeth
IBTimes UK last year already reported cases of torture victims "forced to hang 5-litre jerry can from his testicles", detainees beaten by metal rods and forced to sit in puddles of acid.
Since April, 2016, Human Rights Watch has interviewed more than 40 torture victims from nine provinces and the capital, Bujumbura. One victim claimed that a policeman working at the SNR headquarters poured a liquid – believed to be acid – over his body that burned him so badly he begged to be killed. Another said an SNR agent smashed bones in his legs with a hammer. HRW spoke to former detainees who had sharpened steel rods driven into their legs.
According to the rights organisation, police and members of the ruling party's youth league, the Imbonerakure, have also allegedly committed serious abuses, often in collaboration with SNR agents.
In one case, a former detainee claimed an SNR agent interrogated him while an Imbonerakure dripped melting plastic on him. The victim alleged the men used pliers to cut his genitals, while an Imbonerakure told him: "You will end up revealing the secrets of [opposition leader Alexis] Sinduhije." In an interview with IBTimes UK in 2015, Sinduhije spoke of his attempt to topple Nkurunziza as he intended to form a national transitional council. To put such a government in place, Sinduhije previously claimed he was ready wage war against the government.
A police officer used pliers to pull out the tooth of one detainee. Speaking to HRW, the victim explained: "[The police officer] said he would pull out a tooth every day until I admitted I worked for human rights. I was in so much pain, and there was lots of blood."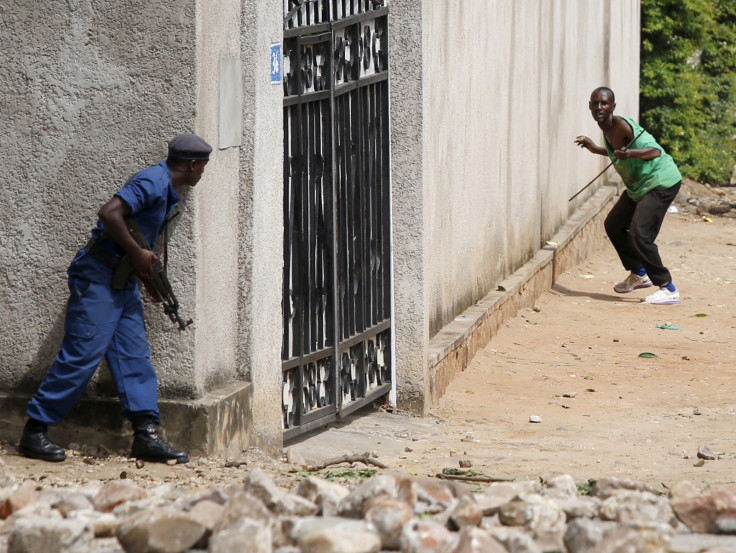 Government and international community's responsibility?
According to detainees, and others with knowledge of the SNR headquarters in the capital's Rohero neighbourhood, the compound has several unofficial cells where detainees who had been tortured were hidden from international monitors.
Armed opposition groups have also attacked security forces and ruling party members, including police and Imbonerakure. According to a high-ranking, the rebels may have killed more than 50 Imbonerakure across the country since April 2015, although HRW was unable to confirm these figures.
"The Burundian government claims the national justice system is independent and that individuals who commit abuses are held to account. Authorities should prove this by investigating and prosecuting those responsible for the systematic torture taking place in Burundi today," Bekele said. "But President Nkurunziza is ultimately responsible for the torture by the national intelligence services and police, so he should take appropriate action."
In May, HRW wrote to Etienne Ntakirutimana, the head of the SNR, who reports directly to President Pierre Nkurunziza, with questions about alleged abuses, but received no reply.
The public security minister, Alain Guillaume Bunyoni, who oversees the police, sent a reply in which he wrote that it was "unthinkable" that police could have ill-treated detainees and that it would be a "serious error to assert gratuitously" that the police arbitrarily arrested, tortured, or ill-treated suspected government opponents. He denied categorically that the police collaborated with the Imbonerakure.
Human rights organisations' recommendations:
The UN and African Union human rights observers in Burundi should intensify their visits to SNR and police detention facilities to deter and document torture.

The facilitator of talks between Burundian political actors, former Tanzanian president Benjamin Mkapa, should give priority to human rights concerns.

The United Nations Security Council (UNSC) should

authorise

the deployment of an international police force in Burundi, with a strong protection mandate. While coordinating with the Burundian police, the international police should maintain their independence and not provide assistance to the Burundian security forces.

The UNSC should set up an international commission of inquiry to investigate torture and other grave abuses.

The Burundian authorities should seek the assistance of the UN Office of the High Commissioner for Human Rights and humanitarian agencies to identify victims of abuse who need medical assistance, and provide the necessary assistance, including

specialised

medical care outside their detention site.