Burundian journalist Esdras Ndikumana, has testified against the country's secret services, who he claims beating him hundred of times with iron bars and clubs.
The 54-year-old, who is a correspondent for French news agency AFP and France 24's sister radio station RFI, said he was taking pictures on 2 August at the scene of General Adolphe Nshimirimana's murder in the capital Bujumbura when he was arrested by members of the National Intelligence Service (SNR) and taken to their offices and beaten.
Beaten a hundred times with iron bars
Speaking to France 24, Ndikumana explained how he and other journalists from the state-run RTNB were given authorisation to access the scene of the murder of the former Burundian security chief, who was a close ally of President Pierre Nkurunziza.
"When I started taking photos, I saw someone from the SNR come towards me and he violently pulled at my camera. He told me he was arresting me because I was an enemy of Burundi and that I was among those who had killed the General Nshimirimana," the journalist said.
The officer, and other members of the SNR, started beating Ndikumana as they forced him into their vehicle in front of around "200 people, highest ranking officials from the army, the police and the presidency who all looked on but didn't say a word", he said.
Officers drove Ndikumana to the SNR's offices, where he claims they beat him "a hundred times, even more maybe, with iron bars and clubs".
The journalist said he suffered microfractures on the soles of his feet, a broken finger and a pierced eardrum. "I lost a lot of blood and had to be transfused with five blood bags," he added.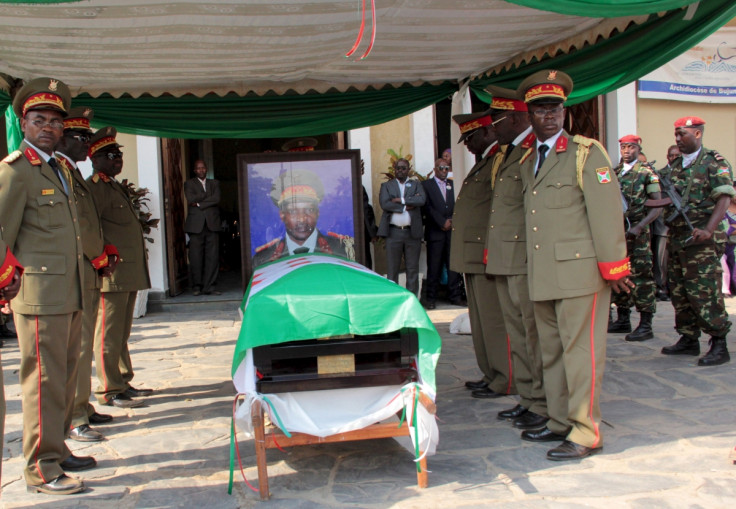 Torture act 'unpunished'
Following the assault, the president's office announced it was opening an investigation, after AFP and RFI wrote a letter to Nkurunziza. At the time, the president described the attack as "intolerable" and said that those who had committed the "barbaric act" would be punished.
"But nothing has happened," Ndikumana said. "We've had no answers. When the prosecutor said he didn't know what had happened, we wrote another letter detailing what had happened, who had witnessed the attack and who were the people responsible. We've had no answer."
The lack of action pushed Ndikumana to "go further because we cannot give up and leave such an act unpunished" and AFR and RFI on Monday (19 October) lodged a complaint of torture against officers of the SNR.
"I don't expect much [to come out of a trial], it is very difficult and that is a reality because the country is thrown into a massive crisis because there are so many cases of torture and assassinations."
Journalists across Burundi last week condemned the death of one of their colleagues, describing his killing as "inhumane". Christophe Nkezabahizi, a cameraman who worked with the state-run RTNB radio and television station, was among seven people killed in shootings and a grenade attack on 13 October in the Ngagara neighbourhood Quartier 3 – a stronghold for opposition supporters.
Burundi's media was among the first casualties of the months of violence that have rocked the country since end of April, after Burundi's main independent radio station Radio Publique Africaine (RPA) was burned down and the government severed the lines of two other key independent stations, Radio Isanganiro and Bonesha FM.
In May, IBTimes UK exclusively reported how local journalists had gone into hiding as they feared they were on an alleged hit-list rolled out by the country's government after the failed coup d'etat.
Burundi up close: Check out our Flipboard magazine