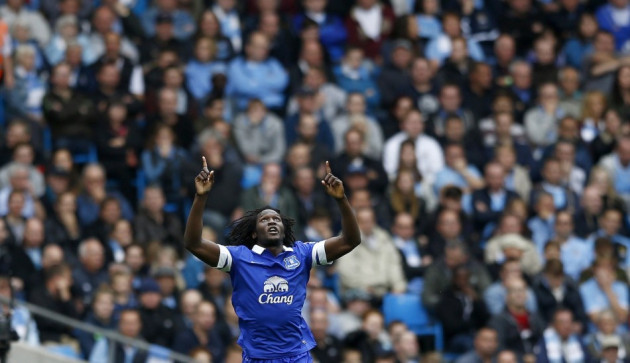 15.34: So Tottenham move up to fourth while Everton are in second. It was a poor game but it means everything is close at the top.
1528:STAT: Tottenham have more points (20) than Man City (19) this season, despite scoring 19 goals fewer than the Citizens.
1526: It's all over and that was a pretty poor game of football. No-one really looked like getting the breakthrough and I think we could have played another 90 minutes without seeing a goal.
1524: Sky give Jan Vertonghen the man of the match award. Shows how poor the game as been when the left-back gets the award.
1522: Tottenham suddenly fancy this as Sigurdsson has a left foot shot from the corner of the area just drag wide of the post. Still four minutes to go.
1520: Silly challenge from Distin on Soldado out by the corner flag and Spurs have a late chance to deliver a dangerous ball. Eriksen takes it and it goes right across the six yard box but no one gets a touch on it.
1518: We are going to have nine minutes of added time. Let's hope for a goal. Just one, that's all I want.
1515: Wonderful stuff from Deulofeu who twists past Vertonghen before driving past two into the area. It looks like the Spaniard is just going to dink it across but Lloris comes flying off his line to prevent the cross.
1513: Final roll of the dice for Spus as Holtby makes way for Eriksen.
1512: Lukaku makes way for Jelavic. The Belgian didn't really have a sight of goal today. To be honest, no one has looked like scoring as it has been a pretty poor game.
1508: Lloris is up and seemingly wants to stay on but the Spurs medical staff will not let him continue and are ushering him off the pitch. But he is coming back on and I'm not sure the medical team are happy with this. Yes, he's staying on.
1505: That is a nightmare for every goalkeeper as Huge Lloris sprints out to claim a cross field ball as Romelu Lukaku bares down on him. The giant Belgian just continues his run and his knee slams into the face of Lloris. It wasn't meant but the Frenchman will be seriously feeling the affects of that.
1503: Decent save from Howard this time as substitute Gylfi Sigurdsson trys his luck from long range. It's a decent curling effort but easily dealt with by the American.
1458: Everton starting to really take control and they've had 80% possession in the last 10 minutes. Lukaku goes close as he gets a knee on a McCarthy cross but he can't quite get enough on it at the near post and it flashes wide.
1455: Ironic cheers ringing around Goodison as Paulinho is booked for a foul on McCarthy. The Everton faithful feel they were denied a penalty just moments earlier for a similar challenge.
1453: Huge penalty appeal as Coleman drives into the box and is seemingly clipped by Vertonghen. He stays on his feet and gets a shot away but there was definite contact.
1452: That will liven up the crowd as Barkley turns away from Dembele and from 30 yards, and on his weaker left-foot, smashes his effort over the bar.
1450: Everton making an attacking change as well as Barcelona loanee Gerard Deulofeu comes on for Miralles and Leon Osman makes way for Ross Barkley.
1448: This is an attacking move from AVB as Mousa Dembele comes on for Sandro. I wonder if the Belgian can find that killer pass for Soldado.
1444: Sylvain Distin looks in real distress here after doing well to block a Paulinho shot. He's fallen awkwardly but is up and walking around and it looks like he'll be able to continue.
1442: Great block from Michael Dawson who gets in the way of a stinging strike from Pienaar. Finally the Everton fans get into full voice.
1440: Everton finally seeing more of the ball but they are struggling to get Lukaku into the game. The big Belgian is pretty isolated up there today.
1435: That is a great break from Everton and they are three on three. Miralles is played in by Lukaku but it is a terrific tackle from Vlad Chiriches.
1432: We are back underway and you assume Everton can't play any worse. Roberto Martinez will be desperate for his side to get hold of the ball as they simply didn't create anything in that first 45.
1424: Tottenham really did boss that first half. They had 58% possession and 10 shots in that first half but, to be honest, they didn't look like scoring.
1416: Spurs have another opportunity as Soldado swivels on the edge of the box and gets his shot away but it flies over the bar. That's their ninth of the game but they haven't really looked like beating Tim Howard. And that is half-time.
1413: Everton have a corner after Miralles fires a freek kick straight at the wall. Baines takes but once again it is easy for Spurs to get it away. The Merseyside club are really struggling to make any impact.
1408: Townsend really is a direct player. Once again he beats Baines and his first thought is to shoot, this time it takes a slight defelction and it's easy for Howard.
1405: You can see why Spurs haven't scored many this season. Despite dominating the proceedings, they haven't really looked like getting a goal. Very strange considering the attacking talent at their disposal.
1402: We have a Everton corner. Can they sucker punch Spurs...No. Baines hits his corner straight out of play. Very poor.
1359: We finally have our first shot on goal for Everton as Leon Osman trys his luck from 30 yards. It is speculative and goes way over the bar but at least it's an attempt.
1355: Surely Spurs are going to break the deadlock soon. They are all over Everton as this time Jagielka clears the ball after good work from Soldado and Holtby. The German then tests Howard with a low drive from the corner of the box.
1353: Vertonghen is one of the biggest threats to Everton so far as Seamus Coleman challenges the Belgian in the penalty area. It looks awkward and there are shouts for a penalty but it is waved away.
1350: STAT: Tottenham have already had six shots on goal while Everton are yet to produce one. One way traffic.
1349: The resulting free kick is thumped goalwards by Kyle Walker but it straight at Howard who punches it clear.
1347: Jan Vertonghen is really bombing forward from his left back berth today and he wins a free kick around 25 yards out as James McCarthy picks up a yellow for bringing him down.
1346: Everton finally get forward but it is easily cleared and Tottenham once again look to break. Townsend and Holtby are seeing plenty of the ball in the early stages.
1342: Tottenham are bossing the early stages and Everton are struggling to get out of their half. Andre Villas-Boas must be loving what he is seeing.
1339: There is a good battle down the Everton left with Leighton Baines coming up against the in-form Andros Townsend. The Spurs man earns a free-kick in a dangerous position after being brought down by his England colleague but Lukaku is superb in the air and heads clear.
1337: This is a really bright start by Spurs as Roberto Soldado heads wide under plenty of pressure from the Everton defence. They look confident today the noth London side.
1335: Another effort from Tottenham and this time it's Andros Townsend who trys his luck from distance but it's well wide.
1333: Good early effort from Spurs and it's Sandro testing Tim Howard from fully 30 yards. It dipped just in front of the Everton keeper who turns it round the post for a corner.
1331: And we are underway at Goodison. Spurs have struggled to goal so far this season so they will be hoping to get off to a bright start today.
1328: STAT: Everton have taken 28 points from their last 10 Barclays Premier League home games. Home comforts.
1324: And here is Villas-Boas giving his thoughts on today's game.
"We decided to give the confidence to the boys that have been playing in the Premier League. good results recently and we decided to go with the same starting XI.
"We've had a good week against Hull. Bearing in mind the amount of minutes we played we took into account the players that played 120 minutes so we slot in a fresh side that is ready for this challenge.
"We have to be aware of Lukaku. He's in a great run of form and is really driven to succeed. We have to be careful with his pace, power and physical presence. We spoke a lot about him in the team meeting and we hope the players can respond."
1316: Everton boss Roberto Martinez has just finished talking to Sky Sports, explaining his decision to bring in Osman for Barkley: "It's not a big decision. Ossie has had a big role so far this season and we've got players that can share the effort and Leon is fresh sharp and ready. Ross has started every single game and there will be moments that we can change things around during the season but it's just an opportunity to use Leon today which will be important for the nature of the game."
1312: So Lewis Holtby plays against the team his dad supports, I wonder if he will be secretly celebrating if the midfielder scores today. The German told Sky Sports: "My dad flew over from Germany with his mates and he'll be in the Everton end probably shouting at me. As a childhood Everton fan I just can't wait to be out on that field, playing at Goodison Park."
1308: Let's start off with the starting XI for both sides.
Everton: Howard, Coleman, Baines, Jagielka, Distin, McCarthy, Barry, Osman, Pienaar, Mirallas, Lukaku
Tottenham: Lloris; Walker, Chiriches, Dawson, Vertonghen; Paulinho, Sandro; Lennon, Holtby, Townsend; Soldado.
1305: Welcome to Goodison Park as Everton take on Tottenham and we have two sides both looking to make a statement and capitalise on the losses of Chelsea and Liverpool. Both have the chance to go second in the table so it should be an exciting game.