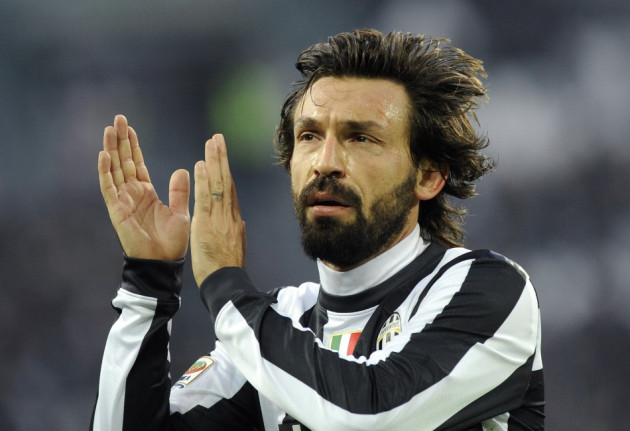 Juventus will attempt to end Tottenham Hotspur's interest in Andrea Pirlo for good by meeting the midfielder's demands and offering him a three year contract extension.
The Italy international has just over six months remaining on his current deal with the Bianconeri but is yet to entered talks regarding a new deal, with the club's general manager Giuseppe Marotta suggesting earlier this season discussions will take place in the New Year.
Despite the prospect of losing the veteran play maker on a free transfer, there has been little urgency to secure the future of the metronomic midfielder, who has played an instrumental role in the club's two consecutive Scudetto triumphs.
Reports have suggested Tottenham will attempt to capitalise on Juventus' inactivity with a lucrative offer for Pirlo, with talk of a pre-contract offer worth £12m over three seasons to be put on the table in the coming months.
However, Italian newspaper Gazzetta dello Sport suggest Juventus have set a date to enter negotiations with Pirlo in February, where they will offer him a deal of equal length with a considerable wage hike to boost.
However, recent comments made by the player himself suggest the matter of extending his deal may not be entirely straight forward with Pirlo more concerned with securing his long term future at a club, rather than gaining any financial benefit.
"It's got nothing to do with figures and I've never demanded a guaranteed place in the team either," Pirlo said at the end of November.
"All I have said is that I want to carry on playing because I'm enjoying it and I feel good. I still want to play regularly and at a certain level.
"If it's at Juventus or another club, we will see. Certainly I'm not ruling anything out. I don't yet know how talks over my contract will go. We've got the whole season still to come and there's still time to talk about it."
The 34-year-old has spent his entire 19-year career in Serie A for Inter, Milan and Juventus while being a mainstay in the Azzurri midfield.