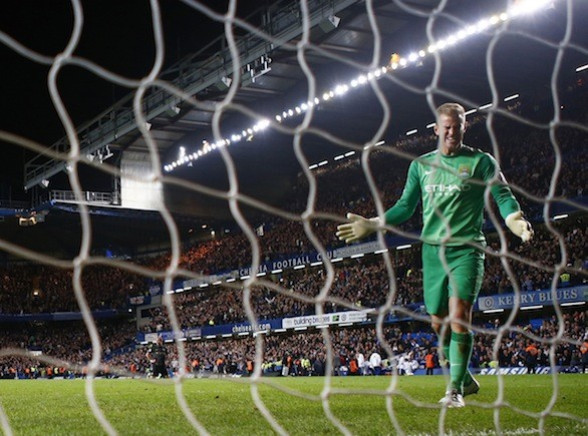 Tottenham stopper Brad Friedel has offered advice to Manchester City manager Manuel Pellegrini over Joe Hart, insisting that he must maintain confidence in his goalkeeper to come out of a recent tough spell.
Hart quickly became both City's number one after spending three loan spells away from the club and played a vitol role in helping the club win a first Premier League title.
But in the 2012-13 campaign he produced some inconsistent performances and this season he has come under even more scrutiny after some high profile mistakes for club and country.
Hart was once again blamed at the weekend as a mix-up with Matija Nastasic allowed Fernando Torres to pounce and secure Chelsea a 2-1 win, leading to calls for the England keeper to be dropped from the first team.
But Friedel, who himself is no longer the number one keeper at Tottenham, says that Pellegrini needs to keep faith in Hart.
"All goalkeepers go through ups and down, and goalkeeping is very much a confidence position," he explained to Talksport. "Joe has never struck me as a person who lacks in the confidence department.
"The manager has a decision to make and he's the only one who knows how Joe's performing day in, day out in training. If he feels he's performing well, he'll stick with him. If he feels he needs a rest, he'll put the other fella in."
Pellegrini himself has admitted he now faces a dilemma over whether to choose Hart or drop him in preparation for City's upcoming fixture against Norwich, and Friedel believes that dropping him could prove costly in the long run.
"Being dropped can have a positive effect, but that depends how you take being dropped," the Spurs man explained. "If you sulk and stop doing your work, it's going to have an adverse effect. If you knuckle down and work even harder and take your chance when you get in again, it can have a positive effect.
"You just never know with these things. That's why it's not as easy as, 'right, we're going to drop Joe Hart' because you don't want to lose the best Joe Hart because the best Joe Hart is England's number one."