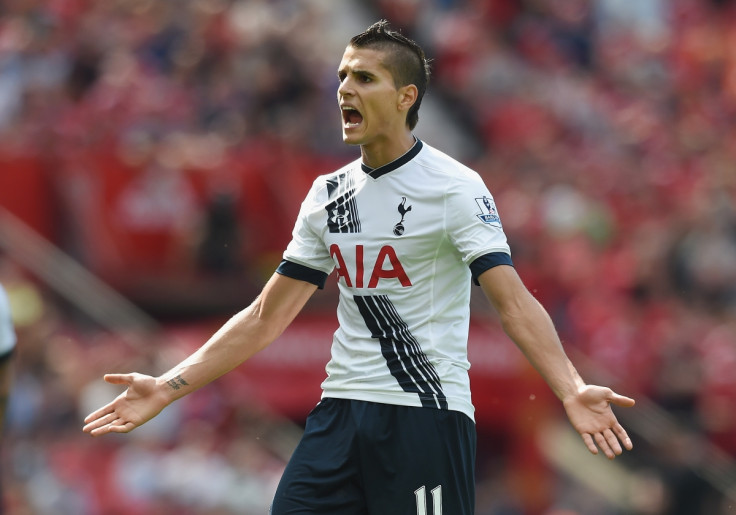 Tottenham Hotspur manager Mauricio Pochettino claims the 2015/16 campaign will be a "key season" for Erik Lamela. The 23-year-old moved to White Hart Lane from AS Roma in the summer of 2013 and since then has struggled to impress for the English club.
The Argentine international was set to leave White Hart Lane as he was close to joining Marseille on loan on deadline day. They had identified West Bromwich Albion striker Saido Berahino as his replacement.
However, neither of the moves materialised and the French club's president Vincent Labrune confirmed Marseille failed to secure the services of the forward. Pochettino first saw Lamela in action while he was with his former club River Plate.
The former Roma star was dubbed to be the "new Lionel Messi". However, the player has failed to live up to those expectations in England and the Tottenham manager has urged his compatriot to prove his worth at White Hart Lane.
"Lamela was young, long hair, long blonde, made a big impact. When a player arrives in this style, left foot, he is always going to be the new Maradona, now he's the new Messi," Pochettino is quoted as saying by the Mirror.
"It's like this. All the people compare him with new Messi. Always it's impossible to stop that. In all webs was Lamela, Lamela, Lamela."
"I think this is a key season for him. After two seasons at Tottenham, now is the moment for him. Not to put pressure, but it's true, it's a key moment for him to develop and to move on his game. It's important."
"We believe we can develop his game and I think we need to be patient with him. It's true, now is the third season here, but we believe in him and we want to give the opportunity to show his value."
"We have a lot of games to play, for competition, we need a good player in all positions. I think the squad we have we have a very good balance," the former Southampton manager added.