Tottenham Hotspur manager Andre Villas-Boas has ruled out the sale of midfielder Rafael van der Vaart, while also revealing that he the club have given up on trying to sign Brazilian striker Leandro Damiao.
Yesterday rumours in Holland suggested that Van der Vaart was due to return to former club Hamburg, but the Spurs boss has quickly moved to dismiss these rumours.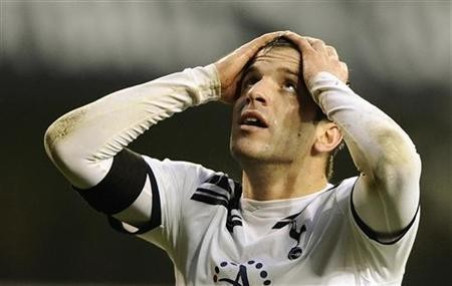 The former Chelsea boss was asked whether the Dutch international was no longer part of his first team plans and would be sold.
"No, on the contrary. He's a player of great importance for us, a player I count on," Villas-Boas is quoted as saying on Sky Sports.
"I'm not sure if Hamburg are interested but he's a player who at the moment is not for sale. Anything can happen but he's a player we are counting on."
The Tottenham boss was also quick to explain just why Van der Vaart had not been selected for the Newcastle game which had increased speculation about his future.
"Rafa was very unlucky because when he came from his vacation after the Euros he got injured in the game against LA Galaxy so he missed most of our pre-season in America and Sigurdsson was with us all pre-season," added Villas-Boas.
"He couldn't therefore play against Watford and Valencia so he came back late for selection and it was pretty straightforward to select Sigurdsson for the Newcastle game. Now Rafa has trained with us all week and he's looking strong and in contention."
Tottenham have also been heavily linked with a bid for Internacional striker Damiao, but it seems as though Villas-Boas is now happy with his options in attack after signing Emmanuel Adebayor on a permanent deal.
Damiao impressed for Brazil at the London Olympics and had been heavily linked with a switch to White Hart Lane, however, he told reporters that a bid was now unlikely.
''I don't think so," answered Villas -Boas when quizzed on Damiao. "With Adebayor, Defoe and Kane coming through, I think I have enough options.
''Damiao is obviously a fantastic player but he is not our prospect at the moment because we are closed with what we are trying to do on the striker situation.''