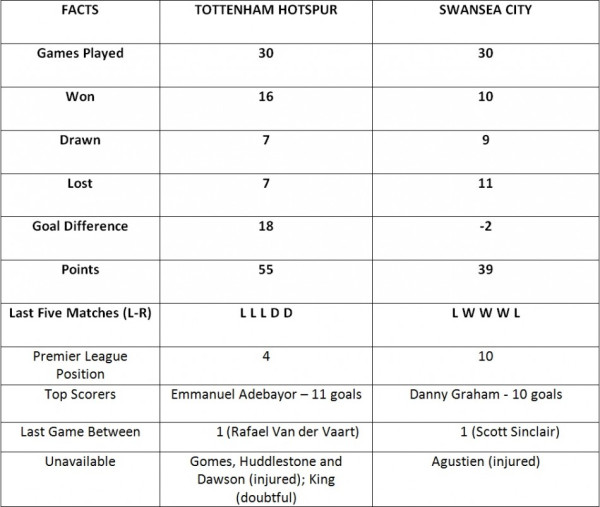 We could say this is a crucial game for Tottenham but that would merely constitute the biggest understatement of the year!
The match will be available live on vslive.tv in the UK and FOXSoccer.tv in the US.
Spurs, even as recently as January, not only looked a sure thing to play in the Champions League next season but even had a more than outside shot at running for the league title. Harry Redknapp's men have falled heavily from so mighty a pedestal since then.
Tottenham have not won a league game since their 5-0 hammering of Newcastle early in February. They are winless in their last five games and have lost three in that sequence. There is talk of some morale being restored, in the aftermath of two draws (against Stoke, at home, and Chelsea, away). However, the fact that draws, particularly to a team lying outside the top ten (Stoke City) needs to be taken as a positive sign is in itself an indication of the extent of the rot at White Hart Lane.
Much of the poor form is being attributed to Redknapp's focus being on possibly being offered the job of managing the English national team. If that is indeed true, then Spurs' run-in to the end of the season - even with relatively easy opponents like QPR, Villa, Fulham, Norwich and Blackburn - is beginning to look like a tall order.
Swansea, meanwhile, have their own managerial concerns to worry them. The Swans have impressed the entire league this year, with a pleasing and attacking style of play, credit for which has gone to boss Brendan Rodgers. So much so, in fact, the man is being spoken about as "stepping up" to a bigger club next season and Tottenham might just have a job for him.
However, unlike Spurs, speculation surrounding their manager's future has not affected Swansea's recent results. They have won four of their last eight league games - this includes that wonderful 1-0 win over Manchester City and a gritty 1-1 draw against Chelsea. The Swans have also claimed the big-name scalp of Arsenal earlier this season, beating the Gunners 3-2 at Liberty Park.
In fact, the visitors' record against the top clubs in this season's league has been rather good of late, a fact that Redknapp ought to be aware of.
Prediction:
Tottenham 2 - Swansea 1
Spurs have to win... it is as simple as that for Redknapp and his men and they will know that. QPR's defeat of Arsenal on Saturday evening was an absolute gift Tottenham cannot afford to pass up in the race for third place in the league. Furthermore, Chelsea's 4-2 win against Villa means that Arsenal and Tottenham will now have to count the boys from Stamford Bridge as a genuine contender for the two Champions League berths for next season. The pressure on each team is set to rise.
Swansea have had an excellent season... indeed, they are having an excellent season. However, qualification for European football is now well beyond them and they have more than successfully staved off the threat of relegation. As such, there really isn't much left to play for. Furthermore, this is an away game for them, meaning they won't have their home supporters in full force. All of this could mean a slip on the road for Rodgers' squad.
Tottenham Starting 11: Friedel; Gallas, Kaboul, Assou-Ekotto, Walker; Parker, Sandro, Modric, Bale, Van der Vaart; Adebayor
Swansea Starting 11: Vorm; Williams, Monk, Taylor, Rangel; Allen, Britton, Sinclair, Routledge; Graham, Sigurdsson