Tottenham defender Michael Dawson has revealed that he was flummoxed by the celebrations in the crowd that ensued a few moments before Bale's winner and thought that Newcastle had scored the equaliser against Arsenal which would have guaranteed them qualification to the Champions League.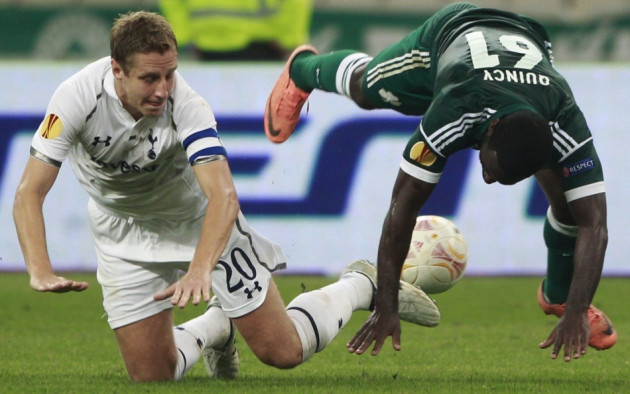 "Yeah, I thought that was it. didn't hear anything else, then towards the end after Gaz scored I sort of picked things up the fans weren't as lively as we would've liked if we'd been in the top four," he said.
The Gunners, who needed a win against Newcastle to seal a Champions League spot scored the winner through Laurent Koscielny and defended doggedly at the back to keep the Magpies at bay.
This is the second time in successive years that Tottenham have squandered a hefty lead over Arsenal to finish behind them in the league table. Spurs were seven points above the Gunners in the league table during the beginning of March but the Gunners managed 26 points from the remaining 10 games to secure fourth in comparison to Tottenham's tally of 18 points during the same period.
Wenger hails Spirit
Arsene Wenger has praised his side for the attitude they have shown in the second half of the season which has rewarded them with Champions League football for the 16th year in succession. Arsenal will now face a double header qualifier for a place in the group stages of the Champions League which will ensue in the middle of August.
"I've had many groups in my life and this is one who has been absolutely outstanding on that front. They've shown a combination of quality but attitude as well. In the modern day, I always admire the way they behaved and their focus every day in training. Sometimes as a manager you feel as well that when a group is so dedicated and face so many storms."
"We had some big lows with Bradford, with Blackburn and with Bayern at home. You could never see that the players could dismantle or that the group was not united. That's not easy in the modern game. In the last three months, I believe we have been remarkably consistent. We won every away game so it's a good springboard for next season, to transfer that belief into the start of next season." he told www.arsenal.com.