Brazilian playmaker and Tottenham Hotspur target Bernard insists he will not sign for Shakhtar Donetsk when he visits the Ukrainian outfit this week.
Donetsk now look favourites to sign the Atletico Mineiro star, after they matched the €23m [£21.8m] price tag for the player. The 20-year-old will now travel to Ukraine for negotiations with Shakhtar but has stressed nothing will be finalised during this trip and insisted he is yet to commit to the move.
"It's just a visit, there won't be any medical. Nothing is certain and I won't sign any documents. I made it clear to them that I would only visit so that I could see their facilities," Bernard pointed out.
Tottenham and Arsenal have been hot on the heels of the midfielder earlier in the summer but Atletico president Alexandre Kalil recently revealed the Premier League duo refused to meet the club's valuation for the player.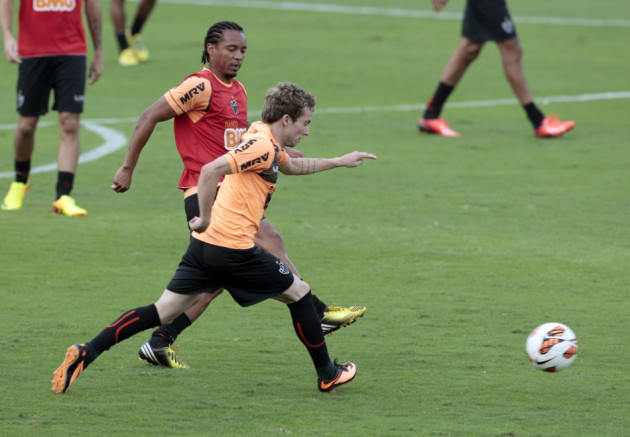 "Tottenham made an offer of €18 million [£15.7m] for Bernard, but they withdrew. Arsenal told us that they would bid, but never did. So what we have now is a €25m bid from Shakhtar," Kalil stated.
Bernard netted 15 times in 47 appearances for Atletico last season. The midfielder's father Delio Duarte had earlier revealed the player was considering a move to Porto, after recommendations from his national team-mate Hulk.
"He wants to continue his career at a club like Porto. He dreams of that. Bernard is Hulk's friend, they became very close in the national squad and they talked about this. Hulk spoke highly of the club and [Bernard] was convinced it would be a safe bet for this stage of his career," Duarte said.
Meanwhile, Spurs winger Gareth Bale has been removed from the background of the club's Twitter page, amid uncertainty over his future.
Real Madrid are expected to land the Welshman for a world record transfer fee this month. The 24-year-old featured on Tottenham's Twitter page background along with forward Clint Dempsey, who left for MLS side Seattle Sounders last week. Both players have now been replaced by midfielder Moussa Dembele and winger Aaron Lennon.