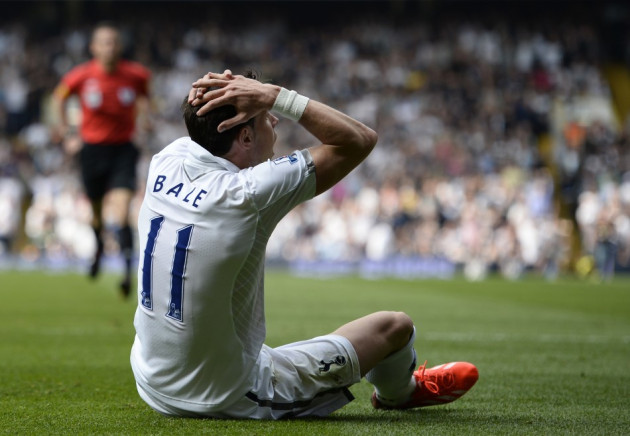 Spanish reports are claiming that Tottenham Hotspur have admitted privately to Real Madrid that Gareth Bale is for sale, but only for a fee of around €110m.
Madrid have relentlessly pursued Bale over the course of the summer and Andre Villas-Boas confirmed that the winger won't be featuring against Crystal Palace in Spurs' first Premier League match this weekend.
Tottenham claim that Bale is recovering from injury but multiple reports claim that his issues are more of a mental nature than a physical one. The 24 year old has admitted in the past that he would like to play abroad at some point in his career and with Madrid reaching the Champions League semi-finals in the last three consecutive seasons he would certainly be competing on the world stage with such a side.
And AS are reporting that Tottenham have relented to the Spanish giants , admitting there is a possibility Bale will be sold to the club after they got in touch once more yesterday to thrash out a possible deal.
A source told the paper said: "Bale has spent three weeks playing the same tactics. He doesn't want to train, he doesn't want to play matches, it seems as if he has taken a definitive decision."
One of the sticking points for the deal is believed to be a possible player swap being a part of the €110m valuation. Madrid have offered Fabio Coentrao as part of the deal but while they value the player at €25m Spurs believe he is worth closer to €20m.
While Madrid's last offer for Bale was €85m, with Coentrao as extra, Levy wants to get as much money out of the deal as possible as he considers parting with the man who was the Premier League's standout star last season.
The north London club would be keen to find a conclusion to the situation as soon as possible so that Villas-Boas can seek out replacements for Bale before deadline day rolls around.
The manager has so far purchased Roberto Soldado to deal with the lack of goals last season but should he lose Bale, who was the side's top scorer by some distance, he would be in need of yet more attacking players in order to take Tottenham from a fifth place finish into contention for a Champions League spot.