Tottenham Hotspur are reportedly considering an approach for Roma midfielder Miralem Pjanic.
The Bosnian has impressed in the Serie A over the past two seasons, making 60 appearances for the Giallorossi in all competitions. According to the Daily Mail, Spurs scouted the 23 year old extensively last term and Andre Villas-Boas is now weighing up an offer.
However, Spurs could face serious competition from Barcelona for the services of Pjanic. The playmaker, understood to be valued at around £20m, earlier revealed the Catalan giants were monitoring him.
"It's true, Barcelona are tracking me and enquired about my situation with my club," the midfielder stated a few months back.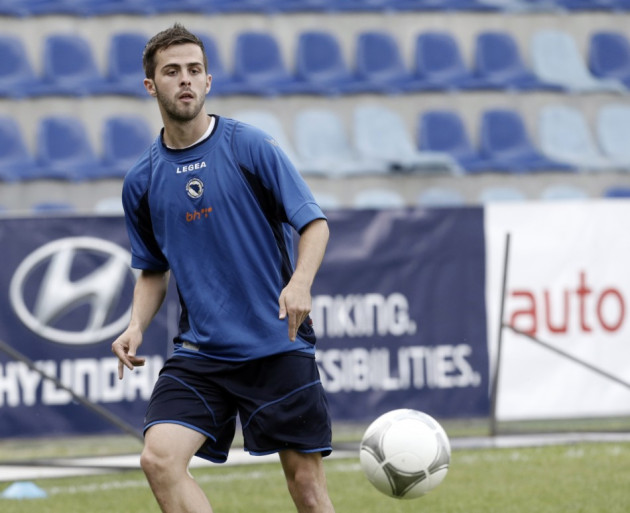 Pjanic, who arrived at the Italian capital from Lyon for €11m on deadline day of the 2011 summer transfer window, recently admitted he was very close to joining Tottenham's north London rivals Arsenal, instead of Roma.
"I had a number of offers at the time and I was set to join Arsenal. I had agreed all of the conditions that had been put into place. However, my father had given his word to Roma and therefore I opted to sign for the Giallorossi instead," the player pointed out.
The Gunners, who were looking for replacements for Cesc Fabregas and Samir Nasri, signed Mikel Arteta from Everton and Yossi Benayoun (loan) from Chelsea late on that deadline day, after being rebuffed by Pjanic.
Meanwhile, Besiktas have confirmed they have tabled a substantial offer for Tottenhan striker Emmanuel Adebayor. The Togo international has been strongly linked with an exit from White Hart Lane and the Turkish outfit have now swooped in for the 29-year-old.
"It is certainly true that we are looking at the idea of a transfer. We have made a serious bid for Adebayor. That, in turn, has given us a figure for the player, which is slightly above the amount that we imagined," said Besiktas director Ahmet Kavalci.
"However, making a signing as big as this immediately is nothing but a dream. Negotiations always take a long time. I hope that we will get a chance to have a meeting," the Turk added.