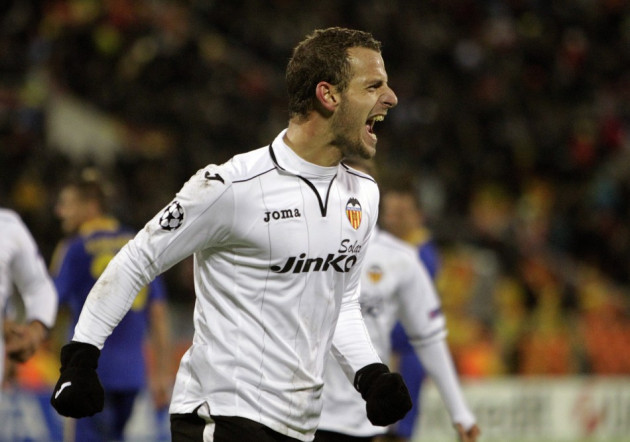 Tottenham Hotspur may well have been priced out of a move for Roberto Saldado after learning that Valencia will only accept an offer that matches his full release clause of €30m.
Soldado scored 31 goals for Valencia and Spain last season, putting his name on the map for top European clubs looking to bolster their attacking line-up this summer.
Spurs are currently on the lookout for a striker after Emmanuel Adebayor and Jermain Defoe both suffered from disappointing seasons, and while Gareth Bale came close to receiving the Premier League's top scoring honours, the winger has since been fielding interest from Real Madrid.
Andre Villas-Boas is well aware of the need to bring in attacking players, but so far the side has only shown concrete interest in Brazilian midfielder Paulinho who confirmed yesterday that he would be moving to the north London side.
And now Spanish paper Marca claims that while Tottenham had been hoping to land Soldado, Valencia have insisted they won't accept a penny less than €30m for the hitman.
Villas-Boas had put Soldado at the top of his summer wishlist, alongside Barcelona striker David Villa. But both deals are looking likely to be very complicated and negotiations could be drawn out, despite hopes that the stars could join the side for pre-season preparations.
Both players would certainly create a great deal of competition for Adebayor, who signed a permanent deal with the club after a season on loan last summer, but has so far failed to recreate the top-class performances from his first campaign with the side.
In fact, the Togo international scored just eight times last season, and his lack of goals seriously hurt Tottenham's fight in their final fixtures to keep their place in the top four and finish above Arsenal for the first time since 1995.
Soldado's goals, and his experience, would certainly give Tottenham a boost next season. But at 28 years of age, €30m is a hefty price to pay when the resale value will likely be much lower and as a result Spurs are reportedly hoping to convince Valencia to part with their star for closer to €20m.