Tottenham Hotspur boss Andre Villas-Boas believes Clint Dempsey showed all the attributes of a deadly striker after the American inspired Spurs to victory at Stoke City to move the club into the Premier League top four.

In a must win game for Villas-Boas' men, the Potters opened the scoring within three minutes through Steven N'Zonzi's header but Dempsey's goal 17 minutes later turned the tide following Marc Wilson's poor clearance.
And after Charlie Adam's dismissal, Emmanuel Adebayor tapped home from Dempsey's cross to seal the win with eight minutes left as Tottenham leapfrogged Arsenal in the race for the final Champions League place.
Arsenal must now beat relegation threatened Wigan Athletic, fresh from their FA Cup final win over Manchester City, on Tuesday to retake fourth place going into the final weekend of the season, and Villas-Boas had special praise for Dempsey's match-winning performance.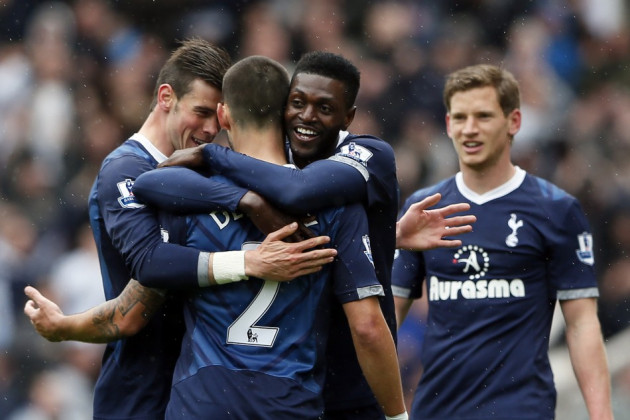 "It was an amazing game from Clint Dempsey. He has the instincts of a deadly striker," he said, according to Talksport.
"Today he scored and assisted Emmanuel Adebayor for his goal. It was a great performance by him. He is a player who deserves a lot of credit."
Arsenal now have face two tough matches in their task of overtaking Tottenham, with the clash against Wigan signficant at the bottom and the top, with victory for Roberto Martinez's side crucial in preventing relegation from the top flight.
While Villas-Boas has made plenty of headway this season with Tottenham, he will ultimately be judged by their ability to finish in the top four, with Harry Redknapp having achieved the feat in the 2009/10 and 2011/12 campaigns.
And the Portuguese tactician is well aware that Arsenal pose a huge threat to achieving that goal.
"It keeps us in the frame and gives us the possibility of making the Champions League so the important thing is the dream is still alive for us," he explained.
"We wanted to take it to the last day when we are playing at home, so it was an extremely important win for us for those reasons, and hopefully someone else will slip up.
"Arsenal are strong and experienced but it will go down to the wire."