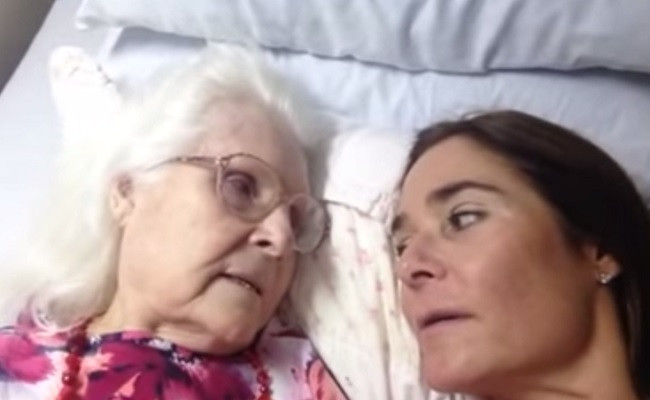 This is the heart-wrenching moment a daughter captures her delight at being recognised by her mother who suffers from debilitating Alzheimer's.
Kelly Gunderson uploaded her touching video to YouTube, which has now received almost one million views, with the caption: "My 87-year-old mother with Alzheimer's knew who I was, even if just for a moment."
Forgetting the names of loved ones is one of many symptoms of Alzheimer's, which causes parts of the brain to become damaged over time. Sufferers may also become withdrawn, experience mood swings and have trouble carrying out daily activities.
Gunderson is seen lying on a hospital bed next to her mother, who at first does not appear to know who she is.
However, then Gunderson puts the question to her: "Do you know who I am?"
To which her mother replies: "Kelly. I love Kelly, didn't I name you Kelly?".
"Yes, you did", Gunderson answers.
Her mother finishes with: "Well I love you Kelly".
Alzheimer's disease affects around five million people in the US, and 800,000 people in the UK. It is the most common form of dementia and there is no cure.
According to the Alzheimer's Society, it is predicted a million people will have dementia in the UK by 2021.