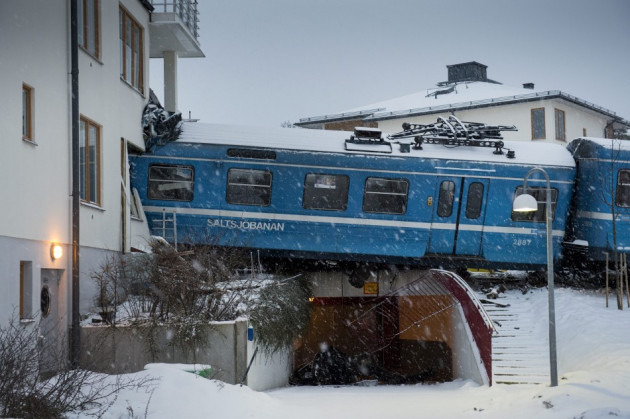 A Swedish cleaning lady stole a train and crashed it into a family home on the outskirts of Stockholm.
The woman, reportedly in her twenties, was the only person injured, despite three families being in the building at the time.
"It's incredibly lucky that no one in the house was injured," police spokesman Ulf Lindgren told TT news agency.
The woman broke into the driver's compartment of an empty train at a depot in Stockholm and drove it on to the local Slussen-Saltsjobaden line.
At the last stop, she barrelled through the bufferrs and the train smashed through the first-floor kitchen of a two-storey building.
It took two hours for a rescue team to pull the women out of the wreckage. She was suffering from serious injuries and was flown by helicopter to the Karolinska University Hospital.
Five people from three families were sleeping inside the house. They were evacuated as a safety measure.
"The train must have been going much faster than it normally does," Fredrik Cavalli-Björkman, a spokesperson for Stockholm public transport operator SL, said.
"She [the driver] was a cleaner. Somehow she managed to get in and steal one of the trains. We're investigating how it could have happened," Tomas Hedenius, a spokesman for subcontractor Arriva, said.
The woman is facing charges of public devastation.