Jeremy Corbyn's commitment to "renationalise" the NHS was overshadowed after the Labour leader lost his cool with reporters during a press conference this morning (24 August). The left-winger took exception to being grilled about his disputed account of a now infamous trip he took on a Virgin East Coast train on 11 August.
Corbyn, who wants to take Britain's railways back into public hands, filmed a video claiming the train from London to Newcastle was "ram-packed [sic]" and he could therefore not find a seat on the service.
But the operator released CCTV footage yesterday appearing to show that the 66-year-old was seated during part of the journey.
Corbyn reacted by revealing more details about the trip, claiming that he was only able to find a pair of seats – so he could sit next to his wife – after a family were upgraded to first class.
The issue was raised by journalists this morning, with an increasingly annoyed Corbyn adopting an adversarial approach to the line of questioning. "Can we move on please? We are discussing the NHS today," he protested to Sky News' Darren McCaffrey.
"We've called a press conference on the NHS and I really hoped that you would be able to find a question on the NHS. But if you can't, we can take another one."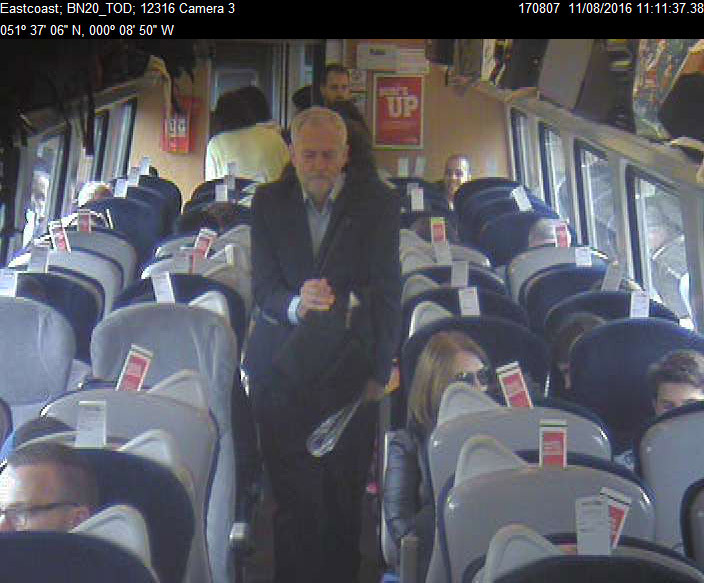 However, an undeterred McCaffrey continued to press the matter. "I'm glad you've watched the CCTV so carefully," Corbyn replied. "It's a really important issue this, absolutely crucial to the whole nation and the NHS.
"But, let's get to the details of it, yes I did walk through the train. Yes, I did look for two empty seats together so I could sit down with my wife and talk to her – that wasn't possible."
The run-in came after Corbyn and Diane Abbott, the shadow health secretary, promised to end privatisation in the NHS and, among other things, scrap Private Finance Initiatives (PFI) that are "leaking money away from front-line service".
"Health, health financing and health inequality is a matter of paramount national importance," Corbyn said.
"The Labour government I will lead will ensure that money goes to patients not contractors, and that our NHS is given the resources to provide a top-quality service as part of a program to rebuild and transform Britain so that no-one and no community is left behind."
A Conservative spokesperson said: "Whoever wins their leadership contest, Labour are too incompetent and divided to build the strong economy a strong NHS needs.
"We have put doctors and nurses in charge of deciding who can best provide the care patients need, and the use of outside providers has grown more slowly than under the last Labour government.
"Labour cannot and will not deliver a country that works for everyone."