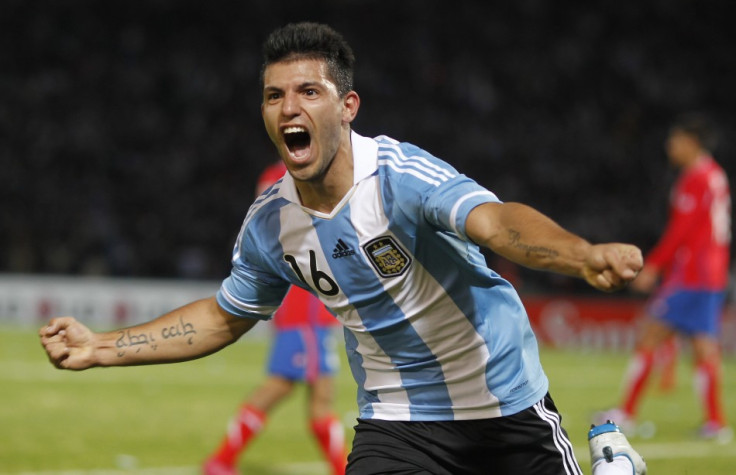 All the latest transfer rumours from Manchester City for the 8 August 2011. Manchester City has rejected rumours they have bid for Ajax wonder kid Christian Eriksen and there are reports that Sergio Aguero could join Real Madrid in the future. Wesley Sneijder is said to be weighing up a move to Manchester City as Carlos Tevez return to the club.
The Sunday Express has claimed that reports in Spain suggest that Sergio Aguero's move to Manchester City could just be a stepping stone to a future move to Real Madrid. The reports claim that the Argentine has spoken of his dream to play for Real Madrid and will seek a move from Manchester as soon as possible.
Atletico Madrid refused to sell the player to Real Madrid earlier this summer but it is believed that Manchester City and Real Madrid have an agreement in place for Aguero to move to back to the Spanish capital, but this time with Real Madrid.
"Aguero's dream has always been to play for Real. While he is excited about playing for City, his ultimate aim is a move to the Bernabeu. It could be a short stay, and there is nothing Atletico can do to stop it. A lot of people in Spain believe he will join Real at the earliest opportunity," the player's agent said.
Mario Balotelli has been described as an 'embarrassment' by former Manchester United captain and Sky Sports pundit Gary Neville. The Manchester United legend spoke out after Mario Balotelli showed further disregard for his manager or team mates but storming down the tunnel after being substituted in the Community Shield on Sunday afternoon.
"Every club has problems and sometimes there players who have problems during a season but this player is a continual problem," said Neville.
"Roberto Mancini spends half of his press conferences talking about this player and I don't get it, to be honest with you. If I was seeing a player who was scoring 25 goals, who was absolutely brilliant week in, week out," the former Manchester United player continued.
The Daily Mail claims that Manchester City has denied making a bid for Ajax wonder kid Christian Eriksen. The player's agent has claimed that Manchester City has made a bid for his client and the player and the club were given consideration to the offer.
"Christian was very flattered by the interest from City, but at the moment it is not the step he wants to make. The feeling has to be right. It's not about the money," Eriksen's agent Martin Schoots said.
However, Manchester City has denied that they have tabled a bid for the Ajax player although Manchester City are said to be very keen on bringing the Danish international to the club in the future.
The Metro claims that Inter Milan midfielder Wesley Sneijder will decide on his future by the end of next week. It was believed that the Dutch international would join Manchester United this summer but according to the newspaper Manchester City is now ready to hijack a deal.
However, Sneijder has been coy on his future. "I can be very brief about the interest from Manchester United and City: I haven't spoken with either of those two clubs, so I can't really say much about my future at the moment," Sneijder told Voetbal International.
It has been reported that Wesley Sneijder's wage demands have put Manchester United manager Sir Alex Ferguson off bidding for the player and the newspaper claims that cash rich Manchester City have no problem with the reported £200k a week demands.
The Telegraph has reported that Manchester City captain Carlos Tevez has returned to Manchester City's training complex and could remain at Manchester City this season. The player returned after saying he would never return to Manchester and the newspaper claims that he could be forced to stay at the club. Inter Milan are said to be the favourites to sign the Argentine striker but a deal has yet to materialise. Roberto Mancini is said to be ready to integrate Tevez back into the squad if he pledges his future to the club.