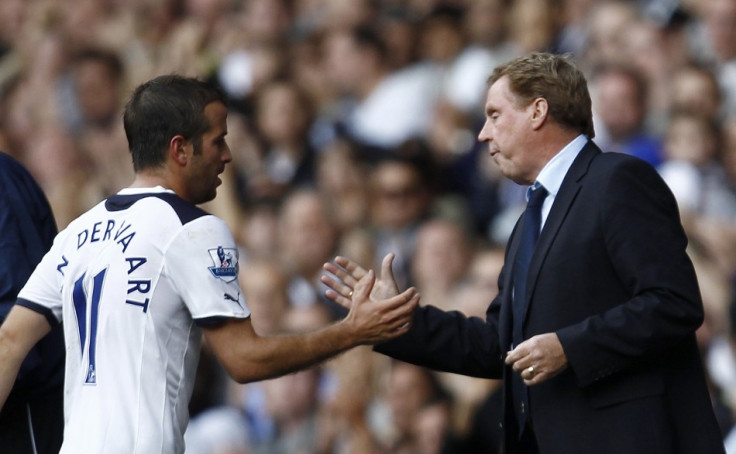 All the latest transfer news from Tottenham for 10 August 2011. Harry Redknapp is said to have instructed his board to make a bid for Porto striker Hulk. The club are also linked with a move for Real Madrid midfielder Lassana Diarra but Robbie Keane says he will leave the club this summer. Rafael Van der Vaart has said he expects Luka Modric to remain at the club.
Tottenham look set to fail in their bid to sign Real Madrid midfielder Lassana Diarra. Harry Redknapp is said to have highlighted the French midfielder as a replacement for both Jermaine Jenas and Wilson Palacios but Tottenham are said to be struggling to raise funds for the player.
Spurs reportedly held talks with Real Madrid on Monday in view to striking a deal for the player to move to White Hart Lane but the talks broke down over Madrid's valuation of the player.
Harry Redknapp signed Diarra for Portsmouth in 2008 and has being working on a deal to bring the player to white Hart Lane for some time but it now seems as though the club will now walk away from the negotiating table.
The Daily Mail claims that Tottenham are readying a £35m bid for Port striker Hulk.
The 25 year old has been the subject of a bod from Chelsea this summer but still remains at the Portuguese club. Harry Redknapp is said to have identified the player as the man to fire Tottenham back into the Champions League places after the north London club only managed a Europa League place last season.
The newspaper claims that the north London side have held talks with the player's representatives after netting 36 goals and adding 24 assists.
The Daily Mirror has reported that Republic of Ireland captain Robbie Keane wants to leave White Hart Lane this summer.
The player has made it clear that he does not see his future with the club but has given little away as to where he will play next season. "I haven't turned down anything. I think there's a few people talking to the clubs but that's all I can really say at the moment. I'm sure in the next couple of weeks it will be sorted out. It's very unlikely anything will happen before the weekend," Keane said.
Asked if his preference was to stay in London, Keane said: "No, I'll move.
Tottenham midfielder Rafael Van der Vaart has said that he is convinced Croatian play maker Luka Modric will stay at the club this summer. Modric has been the centre of a summer transfer saga over a potential move to Chelsea, with Tottenham rejected two bids for the player.
Van der Vaart knows Modric has been upset by Spurs' refusal to negotiate with their London rivals but expects the 25-year-old to give his all when the transfer window closes in three weeks' time.
"I'm really happy that he's going to stay because he's an important player for us," Van der Vaart told Sky Sports News. "Almost every day we ask him to stay and say, 'Have a great season - then you can go! The chairman always said he's going to stay, no questions about it. "I understand he was a little bit disappointed, but in a few weeks he's going to be happy again," he continued.