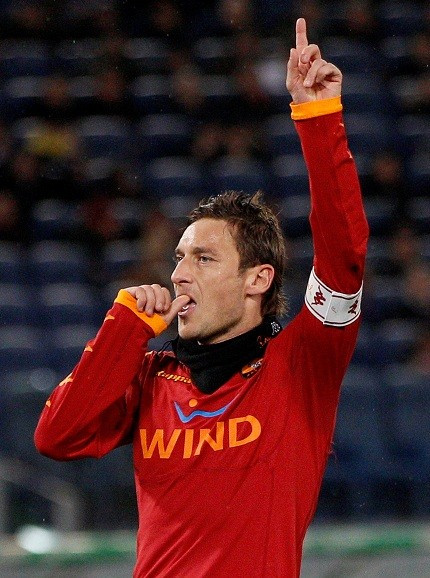 All the latest transfer rumours from Roma on 10 August 2011. Roma are said to be ready to renew their interest in Marouane Chamakh, will bid for Porto star Freddy Guarin but Daniele De Rossi could be on his way to Manchester City. Ex Roma boss Claudio Ranieri has launched an attack of Francesco Totti.
The Daily Mail reported on 4 August 2011 that Marouane Chamakh would not consider a move to Roma but the Italian club are still willing to try and make a deal happen.
The club is said to believe that they can still make a deal work with Arsenal believing that if an offer for the Moroccan is accepted the player would be more inclined to join the club. The striker has struggled to make an impact at Arsenal since his arrival from Bordeaux a year ago and was left out of Arsenal's starting line up after the turn of the year. Chamakh is said to be keen to stay and prove himself at the Emirates this season but Arsenal are said to be ready to listen to offers for the player.
FC Porto star Freddy Guarin is reportedly on the verge of an exit from the Portuguese champions with AS Roma the possible destination for the highly rated Columbian international.
Guarin's agent, Marcelo Ferreira, acknowledged that the Roman's had taken interest in his client but have yet to make an official offer for the player. "The interest of the Roma is there. We now hope that they manifest themselves officially, so that we also get to know the position of FC Porto." he said.
Daniele De Rossi is said to be fed up with the lack of movement on a new deal and will move for a bumper deal with Manchester City.
Corriere dello Sport says that Daniele De Rossi's contract negotiations have stalled and the player has now instructed his representatives to talk with Manchester City. Roma's last offer was for €4 million-a-year - which falls well short of the €7 million-a-year deal tabled by City to his representatives. Sources close to the player say he is now leaning towards a new adventure in England with City.
Ex Roma manager Claudio Ranieri has blasted Roma captain Francesco Totti, labelling the iconic player 'lazy.' Claudio Ranieri had a number of run-ins with Totti during his time in the Italian capital and many observers have said that Totti's attitude toward Ranieri was one of the reasons the manager lost his job. Ranieri has now launched a scathing attack on the 34 year old.
Chelsea, Juventus and Atletico Madrid boss Ranieri admitted he was unimpressed with his dedication to training.
"Sometimes Totti didn't train as he should have done from Monday to Saturday and so (on Sunday) I put him on the bench," said Ranieri.
"But he's the best player I've ever trained. If he'd left Roma for Barcelona or Manchester (United) he would have won the Golden Ball several times," he added.