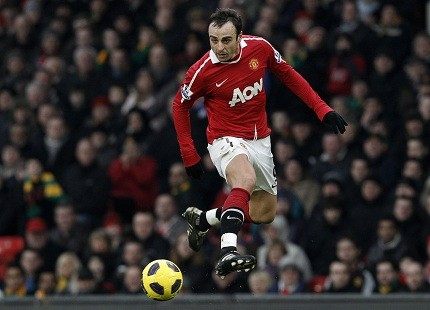 All the latest football transfer rumours from Juventus. The Turin club are said to have completed the signing of Bayer Leverkusen midfielder Arturo Vidal. Vidal has been subject of much speculation this summer but according to Rudi Voller, the Italian side have fended off competition from Chelsea and Real Madrid. Juventus are also said to be ready to compete with Bayern Munich or the signing of Manchester United striker Dimitar Berbatov and will also test Fiorentina's resolves to keep versatile defender Juan Manuel Vargas.
Sky Sports have revealed that Bayer Leverkusen midfielder Arturo Vidal will sign for Juventus this week. The Chilean international had put discussions over a possible move to Juventus on hold until after the Copa America but it has now been revealed that he will sign for the Old Lady. Speaking to Sky Sports, Vidal spoke of his desire to play for one of Europe's elite clubs: 'I'm happy, it's a big and important step for my career at one of the biggest clubs in Europe. 'I'm very content about this new opportunity that I'm being given. It's a new team which is being built with the aim of being champions and qualifying for international competitions.'
Bayer Leverkusen sporting director Rudi Voller has confirmed that Vidal is close to leaving the club for Juventus. He told Tuttosport: "We are in touch with the authorities of Juventus and we are close to sealing a deal."
Juventus are also rumoured to be ready to battle Bayern Munich for the signature of Manchester United forward Dimitar Berbatov. According to reports in Italy, that the Bianconeri have turned their attention to Berbatov and will offer Manchester United around £7m to take the Bulgarian to Turin. The 30 year old has just twelve months left on his current deal at Old Trafford and the newspaper suggested Manchester United will seriously consider the offer.
Juventus are also in talks to sign Fiorentina's Juan Manuel Vargas. According to Goal.com, Juventus are ready to bid for the player who was one of the star performers at the Copa America. The versatile defender is said to be in talks with Juventus and all that remains is the two clubs to agree a fee. However, Fiorentina are not happy with the current terms of the deal, after Juventus offered cash plus Jorge Martinez to tempt the Florence club to sell their star player. Juventus will continue to hold talks with Fiorentina over the coming days to thrash out a deal.