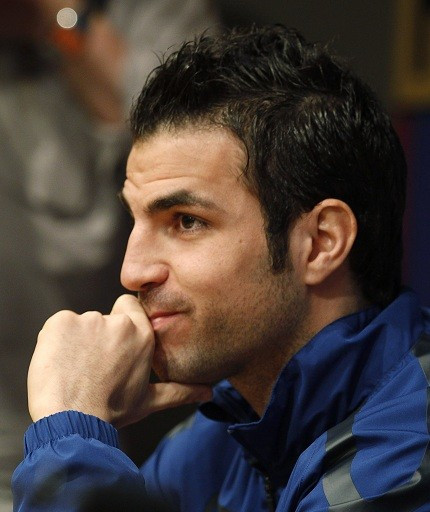 All the latest transfer rumours from Serie A. Ac Milan are said to be close to a sensational transfer coup after it emerged Milan have an agreement with Arsenal to sign Cesc Fabregas. It is also believed that the Italian giants are ready to take Kaka back to Milan after it emerged that Jose Mourinho does not believe Kaka is strong enough to warrant a first team place. Roma have said they will not sell Daniele De Rossi this summer as they welcome Argentine defender Gabriel Heinze to their ranks.
AC Milan is rumoured to be ready to steal Cesc Fabregas from under the noses of Barcelona as a deal between Arsenal and the European champions continues to stall. Football website Tribal Football says that Milan could now be the favourites to sign the Spanish midfielder after talks between Barcelona and Arsenal broke down this weekend. The website says that Barcelona has been relying on Fabregas' desire to join the club to get a cut price deal but it now seems that tactic could back fire.
The website reveals that Cristiano Ruiu, who is with Telelombardia Antennatre, has reported that AC Milan and Arsenal have an agreement in place which matches the Gunners valuation of their captain. He revealed, 'For the last ten to fifteen days, I have to say that sources have told me Mr X is Fabregas and he will arrive in late August. There are agreements with Arsenal and with the entourage of the player, thanks to the mediation of Mino Raiola who in these last days has been in London.'
Kaka is said to be on the radar of AC Milan. Spanish daily AS has reported that Jose Mourinho has given up on Kaka after his lacklustre performances on Real Madrid's preseason tour of the United States. AC Milan are said to be very keen on taking the Brazilian back to Milan and AC Milan owner Silvio Berlusconi is said to be waiting for the green light from Real to open talks.
Sky Sports have reported Roma star Daniele De Rossi, who is a target from Chelsea, Manchester City and Manchester United will not be leaving the Stadio Olimpico this summer despite being out of contract in twelve months' time. Roma have said that they will risk losing the player for free next season in a bid to continue discussions with the player and they remain confident a deal can be reached. Roma chief Walter Sabatani said: "We are still negotiating with him regarding a contract renewal. If those talks do not end positively, we will risk losing him next summer as a free agent. I would rather take that risk than sell him now.'
Roma have also confirmed that Argentine defender Gabriel Heinze will join the club on a free transfer after the player left Marseille in June. Roma have signed the player on a one year deal and joins Bojan Krkic and Erik Lamela. Heinze spoke about his move on Sunday evening: "For me, wearing the jersey of Roma is an honour. I have [been] lucky enough to play in big clubs, now I have been given this new challenge and I did not hesitate [for] a second to say yes.'