After the blockbuster success of Transformers: Age of Extinction, Paramount Pictures is heating up the pre-production for the much-awaited sequel Transformers 5.
The fifth instalment of the science-fiction franchise is scheduled to return in 2017, and the movie's production company has set up a new writing team to frame a power-packed script that will take Optimus Prime's journey to a new height.
Oscar-winning writer-producer Akiva Goldsman will lead the exclusive writing team for the highly anticipated movie.
The Walking Dead creator Robert Kirkman; Iron Man writing duo Art Marcum and Matt Holloway; Jeff Pinkner (The Amazing Spider-Man 2); and Zak Penn (writer for X-Men: The Last Stand and The Incredible Hulk); and Andrew Barrer and Gabriel Ferrari, who reportedly rewrote Marvel's upcoming Ant-Man, will join the team to write powerful and entertaining scripts for the Transformers franchise as Paramount Pictures is planning spin-off movies, along with another sequel.
Brian Goldner, the chief executive of the American toy and media company Hasbro, has hinted that the Autobot Bumblebee may get his own spinoff movie in the future.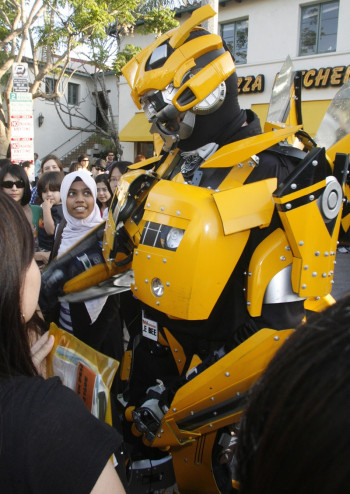 "As we go forward, we would imagine several more Transformers movies," Goldner told TFW2005.com. "Not just in the current lineage but also spin-offs and focusing on certain key characters that are beloved by the world over. Many of you know Bumblebee; the yellow Camaro… formally known as a yellow VW Bug. He is a beloved character by kids all over the world. We could see stories told around Bumblebee and other characters. We are in a process of building the brand equity around the comic book business, our TV business, our digital gaming business and adding to that our new movie business of Transformers."
Age of Extinction, the fourth sequel directed by Michael Bay, was trashed by the critics although the movie's box office sales hit $1.1bn (£720m) worldwide.
Mark Wahlberg, has confirmed he would reprise his role in the next edition of the Transformers series, but Bay has he neither denied not affirmed his involvement in the upcoming movie.
In the animation series of the popular franchise, Optimus Prime appointed Ultra Magnus to take command on the Autobots on Earth, after he went to space to confront the Creators: the source behind the Transformer species.
Rumours are abuzz that the next live-action Transformers film may partially take place in outer space and on Cybertron, the planet of the peace-loving Autobots and the dissident Decepticons.
The Gospel Herald reports that the fifth instalment of the blockbuster live-action movie may introduce Cyclonus and Scourge: a recycled pair of Decepticons created using parts from dead robots by the Unicron, who will be sent to Earth to devastate human race.