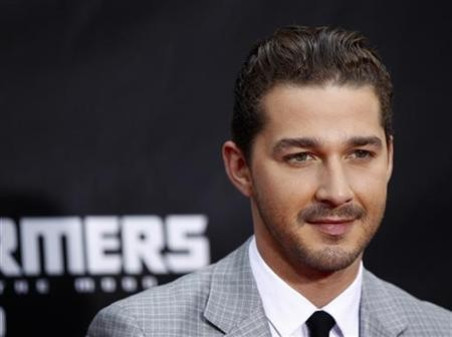 He is used to battling alien robots but it seems that Shia LaBeouf can take on the human species too.
The 26-year-old Transformers star reportedly got into a fight while drinking in a south London pub because a student stole his hat.
According to reports, LaBeouf was at the Hobgoblin in New Cross with his Nymphomaniac co-star Mia Goth when a prankster snatched his baseball cap, a souvenir from Laos in Asia.
One spy told the Sun: "The scrap all started when this guy took his hat. I think he was just joking, but Shia didn't like it.
"The guy just took it off him and wouldn't give it back. He tried to get it back and they ended up tussling. It was handbags really. But it shows that even Hollywood stars can't avoid grief down this way."
Witnesses claim that after an exchange of words, a fight broke out and drinkers had to separate the pair before the Hollywood hunk left in a taxi. Police were not called over the incident.
Landlord Mark Harris confirmed that the pair had been in the area, visiting Goth's family.
"Her [Goth's] mum lives just down the road. She came down to see her mum and he tagged along," Harris said.
"He did get a bit frustrated and there was a bit of a scuffle."
This is not the first time LaBeouf has got into a scuffle at a bar. In October 201, he apparently got into a fistfight outside a bar in Vancouver and had to be restrained by friends after a man punched him in the head.
A spokesperson for the actor was not available for comment.