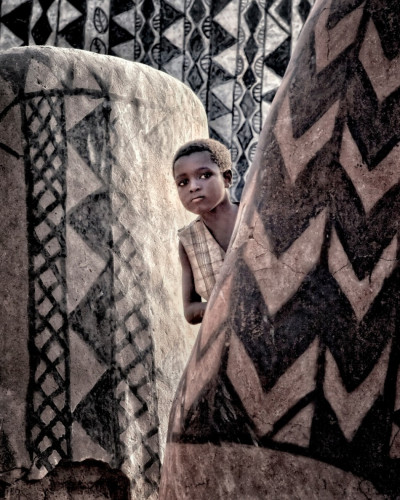 Louis Montrose, of San Diego, was named the Travel Photographer of the Year for his portfolio containing spectacular images of life in a painted village in Burkino Faso and the Day of the Dead festival in Oaxaca, Mexico.
The ninth annual competition saw thousands of entries, which were eventually narrowed down to 180 finalists.
"It is a great honour to have been named Travel Photographer of the Year and I am especially pleased at the prospect of having my photographs seen more widely as a consequence of the awards. I am deeply grateful to the contest judges and to the organisation for their recognition and support of my work," said Mr Montrose.
Competition founder and photographer Chris Coe said choosing one winner from the field was "a near impossible task."
"When you get down to the last 10 or so finalists, it's very difficult to choose because the quality is so extremely high," he said.
"What was so fantastic about Louis' portfolio is the way that the images have been crafted. They have an initial impact, but there is something about them that makes you come back to them time and time again.
"The whole competition this year has been of an incredibly high standard. Travel photography can really be anything, be it people, landscapes or reportage and so photographers could really come up with something special."
He highlighted the work of 17-year-old Joel Biddle, of Kent, as an emerging talent.
"Joel's images show incredible talent and confidence and it is very heartening to see young people showing that level of talent. Joel was just one of a great deal of spectacular entries."
Judges of the competition included photographer Steve Bloom, Colin Finlay of Wildlife Photographer of the Year and travel Africa editor Matt Phillips.
Other winners included:
Young Travel Photographer of the Year: Arne Hansen, 17, Germany
Emerging Talent and Young Travel Photographer 15-18: Joel Biddle, 17, UK.
Young Travel Photographer 15-18, Green: Tom Spence, 17, UK
Young Travel Photographer, 14 and under, Green: Seamus Crowley, 14, USA
Portfolio - Cultures and Traditions: Sergey Anisimov, Russia.
Best Single Image in a Portfolio - Cultures and Traditions: Philip Lee Harvey, UK
The winning images will be displayed in an exhibition at the Royal geographical Society in London from Jun 21 to Aug 19 2012.