Labour's shadow education secretary Tristram Hunt has slammed the government's handling of the so-called "Trojan Horse" affair. Speaking on BBC Radio 4's Today programme, Hunt described the current school inspection criteria as "not fit for purpose" and said Ofsted's inspectors should check to ensure that all schools maintain a broad and balanced curriculum.
"Clearly, given that some of these schools received positive Ofsted ratings in the not too distant past, there are also questions for Her Majesty's Inspectorate," said Hunt. "Parents will be confused that schools can go from 'outstanding' to 'requires improvement' in such a rapid period of time, and that raises questions around the inspection criteria."
On Monday Ofsted will report that one of the Birmingham schools central to the alleged plot, Park View Academy, "is not doing enough to keep students safe, including raising students' awareness of the risks of extremism." It also claims some staff are scared to speak out about their concerns.
The school rejects the findings, saying they are driven by negative media coverage. Governor David Hughes said the new findings indicated a "witch-hunt". Hughes – a governor for 15 years – says, "In all my time as a governor we have not received a single complaint about 'extremism' or 'radicalism'. If we had we would have investigated it openly and thoroughly."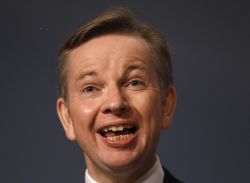 Education secretary Michael Gove and Home Secretary Theresa May have been embroiled in a spat over the issue, with May's office publishing a letter which criticised Gove's handling of the matter. Prime Minister David Cameron personally intervened as the row threatened to overshadow the Queen's Speech.
Investigations are continuing to find out the extent of infiltration by Muslim extremists in Birmingham schools, but doubts persist about the legitimacy of a letter purportedly claiming to be from one Islamic fundamentalist to another which set out ways schools could be taken over and non-Muslims forced out.
The undated and unsigned letter includes a five-step plan on how to "take over" schools. On suggestion is to secure the help of hardline parents who can be persuaded to turn against non-Muslim heads and teachers by saying "the school is corrupting their children with sex education, teaching about homosexuals, making their children pray Christian prayers and mixed swimming and sports".
However one of the so-called plotters, Tahir Alam, has denied any involvement with the letter, saying it was "a malicious fabrication and completely untrue".