Some schools in east London are being taken over by Muslim extremists who are trying to convert pupils and staff to their hardline ideology, according to a report in today's Sunday Times.
The newspaper spoke to a contact within the Department for Education (DfE) who clams the problem there is even worse than in Birmingham, where a 'Trojan Horse' plot to take over schools was revealed this year.
"Tower Hamlets is expected to be the next Birmingham," said the DfE source, "but even worse, because the problems surrounding Muslim fundamentalists imposing their views on education seems to be more embedded."
One of the schools highlighted in the report is Marner Primary School, which has been inspected by Ofsted following the raising of concerns by the Home Office. The council said it expects Marner to be given a "clean bill of health" within coming days.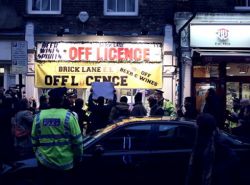 Tower Hamlets has a large Muslim population, and recently hit the headlines when an Islamic State flag was draped at the entrance to one of its housing estates. The flag was torn down by 77-year-old nun Sister Christine Frost.
The area has also seen occasional problems with small groups of Muslims harassing people for drinking alcohol or wearing 'immodest' clothing, although community relations in the area are relatively good.
When approached by the Mail on Sunday the DfE wouldn't confirm that Tower Hamlets was being highlighted, saying only: "If any evidence of extremism is presented to us we will investigate it.
"All schools are subject to a tough inspection regime and we have been clear we will not hesitate to take firm and swift action if pupils are being let down or placed at risk. Keeping our children safe, and ensuring our schools prepare them for life in modern Britain, could not be more important."
In Birmingham 21 schools were subject to spot inspections by Ofsted, and five were placed in special measures following allegations of a similar plot to infiltrate schools. However, Ofsted says the issue is far from resolved and other schools are also being monitored. It emerged that one school had even allowed the screening of an extreme jihadist video to students.
Inspections have taken place at faith schools across the country, including Jewish and Christian schools, as well as state schools in areas with large Muslim populations. As a result of the inspections more visits were necessary because of concerns they did not offer a broad enough curriculum in certain subjects, including religious tolerance.