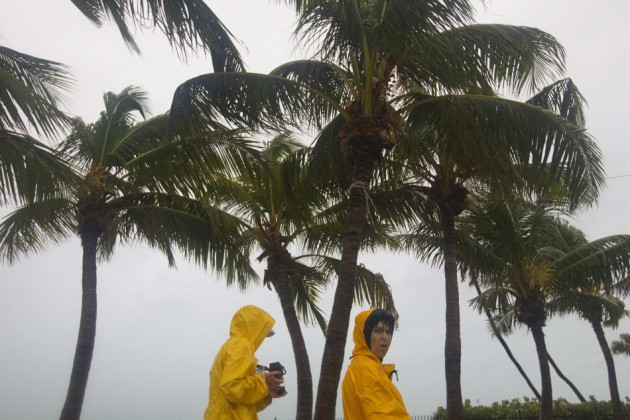 Key US states on the Gulf Coast have declared a state of emergency as tropical storm Isaac gains momentum to become a hurricane.
Ironically, seven years after Hurricane Katrina devastated New Orleans, it is feared that Isaac will cause a similar disaster on the anniversary of the Katrina havoc.
States, including Mississippi, Louisiana and Alabama on the Gulf Coast, have told people in the danger zone to evacuate.
After lashing the Florida coast with heavy rain and winds at a speed of 65 miles, it is possible for Isaac to attain hurricane force within hours, warned the National Hurricane Center (NHC).
The storm has already forced the Republicans to reschedule their national convention in Tampa on the Florida coast.
The NHC urged people to act fast to protect themselves and their property. "Some strengthening is forecast during the next 48 hours and Isaac is expected to become a hurricane in a day or two," said the NHC.
NHC director Rick Knabb said forecasters were finding it hard to narrow down the exact place where the core of the storm will fall. Being a huge storm, Isaac has the potential to cause massive damage to places within a radius of 200 miles.
While many people are leaving some parts within the danger zone, others have placed sandbags and boarded up windows of their houses.
Commuting and communication facilities have been badly affected and the region is witnessing frequent power cuts.
Hurricane Katrina which claimed 1,800 lives on 29 August, 2005 prompted the authorities to be better equipped to deal with the monster storm.
Brent crude surges
Brent crude surged following fears that the storm could hit oil production. Brent crude jumped more than a dollar per barrel to $115.13 while US crude also rose by $1.36.
"The markets are now getting excited on the possibility of additional monetary stimulus by the Federal Reserve. I don't think traders will want to be caught short ahead of the Jackson Hole meeting especially when there's an upside risk," a market analyst at OptionsXpress, Ben Le Brun told Reuters.
The Gulf of Mexico accounts for nearly a quarter of the country's oil production and 7 to 8 percent of the natural gas output, according to official figures.