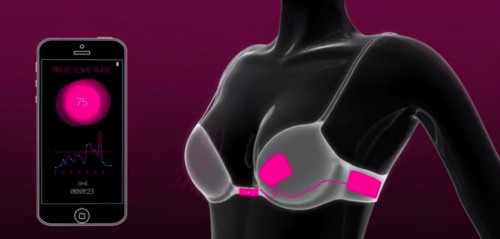 A Japanese lingerie company has produced a bra which the manufacturer says unclasps only if its wearer is truly in love.
According to The Sydney Morning Herald, the bra "uses sensors and a special gadget linked to a mobile device to analyse the pattern and speed of the user's heart beat in the heat of the moment."
The bra conceals sensors placed inside the cup which send wireless signals to a smartphone. The way the hi-tech bra works has been explained in a promotional video.
The new technology means a couple's chances of taking things forward depend on the app. If the woman's feelings are determined as real, the front clasp pops open.
Lingerie brand Ravijour is marketing the bra as a means to protect women from unwanted sexual advances. However, how a woman can unclasp the bra in the absence of 'true love' is unclear, reports NY Daily News.
The bra is a marketing gimmick by Ravijour and forms part of a publicity campaign for the marque's 10th anniversary. It is not for sale, the SMH reported.
"We wanted to do something that wouldn't just appeal to people who wear our products, but also to lift the romantic mood between men and women," spokeswoman Yuka Tamura said.
With regard to questions about the bra's functionality and how it will differentiate between activities as diverse as jogging and flirting, the makers say that the app studies the heart's changing patterns and their duration, which in turn allows it (the app) to make the right judgment.
In the promotional video clip, a model stands in a dimly lit studio wearing the bra which keeps the "insistent alpha male at bay because he cannot unhook the clasp," says the SMH report.
"Until now, the bra was a piece of clothing to remove, but now it is an instrument to test for true love," a woman says in the clip.