Trump rewriting health care bill with Republicans on day of key vote
Republicans scramble to appease party's right wing and make deeper cuts to bill that would leave 24m without insurance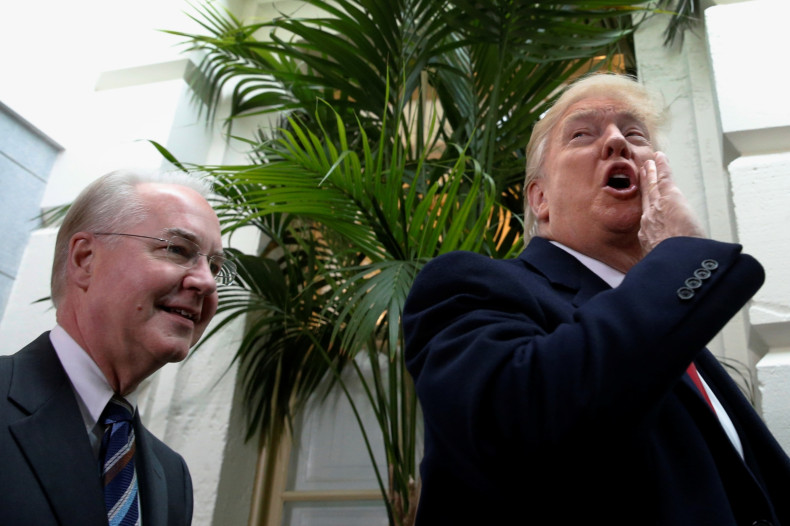 President Donald Trump and House Republicans decided not to stay up all night making rewrites to their health care bill and are now huddled together redrafting it on the day it faces a key vote to send it to the Senate.
"That is what my conference are doing right now: talking, debating, understanding, listening, compromising," said Republican Pete Sessions (R-TX) early Thursday (23 March). "Rather than staying up all night, we are here today," he said, promising that his party colleagues are "huddled" somewhere on Capitol Hill re-drafting the controversial bill.
Sessions said that estimates last week by the Congressional Budget Office (CBO) showing the Republican designed American Health Care Act (AHCA) will leave 24 million Americans without insurance under "are probably right."
Did the CBO's analysis unjustifiably stoke fear in Americans about their health care being taken away? "No, I can't say that," Sessions said.
Trump attempted to win over members of the hard right Freedom Caucus earlier this week by telling them that if they didn't get the bill passed they would lose their seats and threaten his entire political agenda.
Many of the caucus' 40 members had warned they would stand against the bill, which Republicans know cannot not withstand more than 21 defectors. They need 216 votes in all to get the bill through.
The caucus' members saw the proposed bill as too soft. But on Wednesday night caucus chairman Mark Meadows (R-NC) said that he and President Trump had reached an "agreement in principle" that would gain their votes. White House budget director Mick Mulvaney reportedly agreed to revise the bill to remove a list of 10 health care benefits that Obama's Affordable Care Act (ACA) compelled health insurance companies to offer.
"We're on a rescue mission," said Republican John Shimkus (R-IL) insisting that the ACA has been a failure since it was passed seven years ago.
The ACA has increased health insurance coverage to about 20-22 million Americans. But health care premiums are set to rise, on average, by 25% across the 50 US states in 2017. The CBO's report projected the amount people pay in premiums would remain stable for the next 10 years.
The main issue is the fact that it mandates everyone in America to have health care, said Sessions. "We respect each other and don't tell each other what to do," he said. "That's part of the freedom model that I buy off on."
The bill "must look like a cruel joke to the most vulnerable among us," said Republican Jim McGovern (D-MA) on the floor of the House on Thursday, calling it a "reverse Robin Hood will still from the poor and give to the wealthy."