Trump says 'time for trivial fights is behind us' and urges unity in address to Congress
Republican adopts a more conservative tone than his previous outings.
US President Donald Trump has appealed for unity while reiterating his campaign promises during his first joint session address to Congress.
Not only did the president urge Democrats and Republicans to work together to pass bills on issues including education and immigration - he also asked the nation to unite behind law enforcement to tackle social problems.
Summing up his thoughts, the president stated: "The time for trivial fights is behind us."
Opening his 60-minute long speech, Trump mentioned Black History Month and denounced antisemitism. He said he wanted to send a message of unity and strength "deeply delivered from my heart", claiming that: "a new chapter of American greatness is beginning".
Trump also described a "new surge" of optimism sweeping the nation, describing it as "the renewal of the American spirit".
Among the topics Trump discussed during his address were the military and veterans affairs, the future of Obamacare, law enforcement, education, foreign policy, Isis, Nato and immigration.
"My administration wants to work with both parties to make childcare affordable, to get parents paid family leave, invest in women's health and to promote clean air and water and rebuild military and infrastructure," he said, prompting several Democrats to stand and applaud the president.
Trump pledged: "Dying industries will come roaring back to life, veterans [will be] remembered, infrastructure replaced, with new roads, bridges, tunnels and airports, [the] drug epidemic will slow and stop, and our neglected inner cities will see a rebirth of hope, safety, and opportunity – we will keep our promises to the American people."
As with many of his rallies during his presidential campaign, Trump mentioned people in the audience who illustrated points he wished to underline. He led the applause for the wife of Ryan Owens, the US SEAL killed in the Yemen raid, as well as for a young woman who had overcome a rare disease and a student who achieved academic success after opting into private education.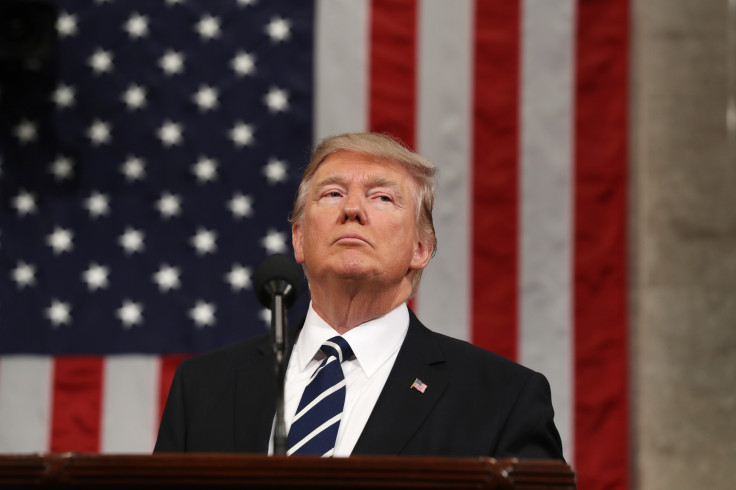 'Draining the swamp'
The president also outlined the achievements he feels he has made during his first 40 days in office. He said he had begun to "drain the swamp" of government corruption with bans on lobbying by executive officials, and ordered a task force to fight violent crime and drugs problems – prompting one of many standing ovations from the floor.
His speech showed renewed optimism, with less fiery rhetoric and scare tactics - particularly on the topics of immigration and the media, which have been under fire from Trump in in several of his press conferences.
Concluding his speech, Trump encouraged people to "dream big" and appealed once again for people across the nation and on both sides of the floor to work together for a better future.
© Copyright IBTimes 2023. All rights reserved.