US President Donald Trump on Friday (9 June) accused Qatar – the small Gulf country which is involved in a diplomatic crisis with its Arab neighbours – of sponsoring terrorism at a "high level" while Secretary of State Rex Tillerson urged for calm and an ease to the blockade imposed against Doha by the Arab nations.
"The nation of Qatar unfortunately has historically been a funder of terrorism at a very high level," Trump told reporters at the White House, where he was holding a joint news conference with Romanian President Klaus Iohannis.
"So we had a decision to make, do we take the easy road or do we finally take a hard but necessary action. We have to stop the funding of terrorism. I decided ... the time had come to call on Qatar to end its funding," Reuters cited Trump as saying.
The president's comments are seen as his most outspoken intervention in a crisis that triggered several Arab nations to sever ties with Qatar.
Saudi Arabia, UAE, Egypt, Bahrain and the Western-recognised governments of Libya and Yemen as well as the Maldives cut ties with Doha on 5 June, accusing it of supporting terror groups, including the Islamic State. The countries also denounced Qatar's perceived tolerance of Saudi Arabia's arch-rival, Iran.
However, Qatar denies all accusations.
"No civilised nation can tolerate this violence or allow this wicked ideology to spread on its shores," Trump said.
Tillerson, however, said the diplomatic row was causing unintended humanitarian consequences like food shortages, the forced separation of families and children being pulled out of school.
Besides the blockade is also affecting the US-led fight against Islamic State (Isis) militant group in the region. Reuters reported that more than 11,000 US and coalition forces are stationed at al Udeid Air Base in Qatar. Over 100 aircraft operate from the military base in US' campaign against the jihadists.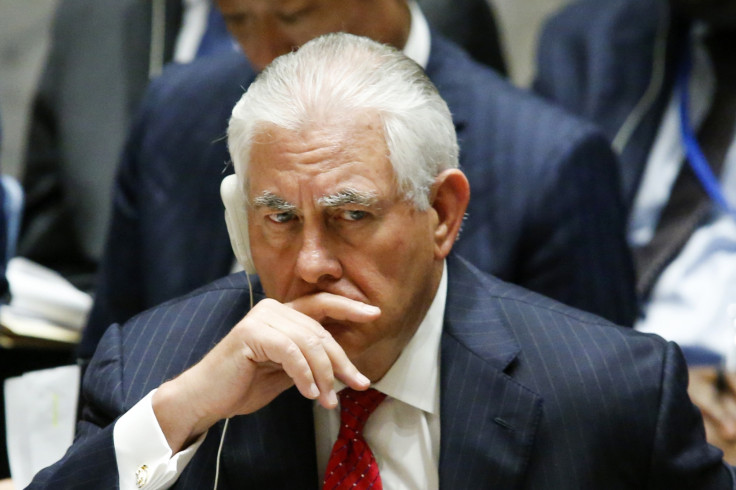 "Our expectation is that these countries will immediately take steps to de-escalate the situation and put forth a good faith effort to resolve their grievances they have with each other," Tillerson said.
The crisis is also seen as a major diplomatic test for the Trump administration as US is a close ally of Qatar as well as the rest of the Arab world opposing Doha, Reuters noted.
However, the tone and approach of Trump in this subject is believed to have undermined Tillerson's appeal for de-escalation, an analysis by BBC's Barbara Plett-Usher, a State Department correspondent said.
But US officials said the two men were on the "same page" only on Qatar with an intention to encourage their Arab allies to keep aside the difference and focus on fighting extremism.
Trump's intervention came after Saudi Arabia and its allies issued a "terror list" containing 59 individuals and 12 groups linked to Qatar. All the organisations named in the list are either Qatar-based or Qatar-funded.
In response to the list, the Qatari government said in a statement on Friday: "We do not, have not and will not support terrorist groups."
Tillerson in his remarks praised Qatar's emir for making "progress in halting financial support", but he urged him to do more and do it quickly.
"Others must also continue to eliminate factions of support for violent organisations within their own borders," the secretary of state added.