Somali refugees living in Dadaab, the world's biggest refugee camp, in eastern Kenya, fear they could find themselves between a rock and a hard place following US President Donald Trump's ban on refugees.
For more than 20 years, Kenya has been home to generations of Somalis who have fled their war-torn country and more than 261,495 Somalis are living in Dadaab camp, of which 51% are women and 60% children (aged 1-17), according to the United Nations refugee agency (UNHCR).
While Kenya said in 2016 it would close the camp before the end of that year after describing Dadaab as an economic burden and a breeding ground for terrorism, it later softened its position, saying it would stay open until Somalia stabilises.
However, Kenya's plans to speed up the repatriation of Somali refugees is leaving many distraught at a time when Trump's controversial executive order, made on Friday (27 January 2017), now means that refugees and people from seven Muslim-majority countries, including Somalia, are denied US refugee status or visas for 120 days – or indefinitely, in the case of Syria.
"People though that they would skip the Kenyan government's decision to close Dadaab by going to the US, and finding a good life there. But their dream was ruined by Donald Trump, when the US government banned refugees from entering the country," 23-year old Ali, a Somali refugee living in Dadaab, exclusively told IBTimes UK.
Several of Ali's acquaintances, who expected to fly to the US to start a new life, are currently in transit in Nairobi, but he says that the UNHCR is yet to bring them back to Dadaab. "We are expecting them in the next couple of days."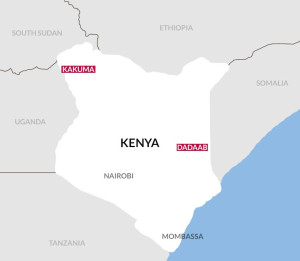 Despite being a settlement camp, it is extremely difficult for refugees to Dadaab without the Kenyan government granting them permission. Many, who were born in Dadaab, have never left the camp.
Describing the "trauma" of being sent back to Dadaab and becoming a refugee again after 25 years spent in the dusty premises, Ali explained that to be "denied at the last minute, they would clearly be very demoralised".
The young man described how the majority of Somalis affected by the ban were vulnerable refugees scared of returning to Somalia, where the majority of male refugees claimed they would become a target for both the al-Shabaab Islamic extremist group linked to al-Qaeda, which has been waging a deadly insurgency against the Somalian government, and government security forces.
"Most of the people who are living in Dadaab are women and children, who need to be rescued from this war in Somalia. There was an epidemic of girls being raped, who were admitted to hospital. There is the Islamic militia group (al-Shabaab) that controls parts of Somalia and how they treat women and children. The ban means they could now be pushed back to Somalia where life would be very difficult for them," he warned.
More than 40% of Somalia's population are now food insecure, due to conflict and drought.
"Many vulnerable people in Dadaab thought that resettlement to the US was the only thing that could actually save them from returning to Somalia. I think the ban affects the Dadaab refugees more than any other people," the young man said from the camp.
In response to the ban, the Norwegian Refugee Council, which has programmes in Kenya's sprawling camps, said it "is dismayed by these decisions, which taken together distort and weaken a programme that has been a beacon to the vulnerable and the oppressed for nearly 40 years".