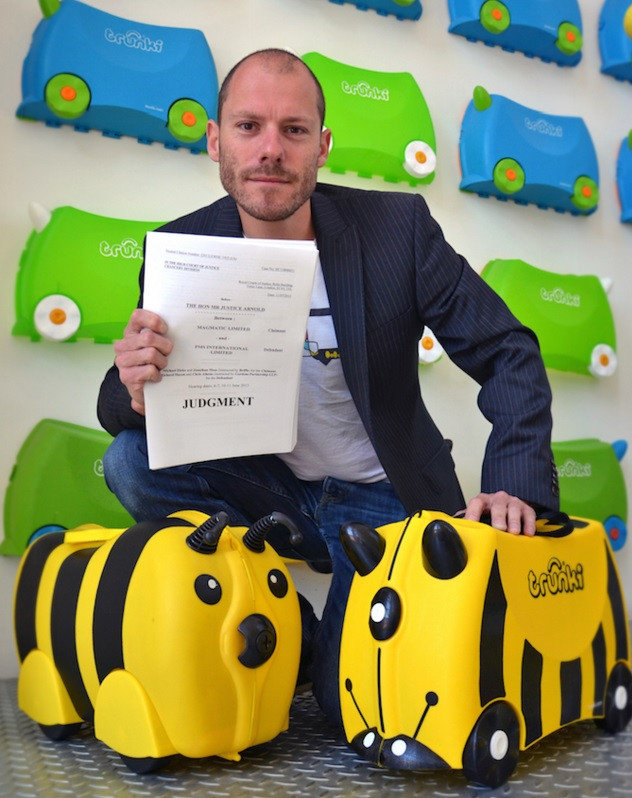 The company that makes the iconic Trunki children's suitcases has lost a court battle with trunk maker Kiddee Case over an identical design.
The UK Supreme Court ruled that the company behind the Kiddee Case, PMS International, is allowed to continue manufacturing its design. The five court judges ruled against Trunki maker Magmatic.
Trunki founder Rob Law said PMS International "willfully ripped off" the Trunki design. The firm had claimed that the Kiddee Cases, which were also decorated to look like small animals and insects were an infringement of design rights registered by Magmatic.
"We are devastated and bewildered by this judgement, not just for ourselves but for the huge wave of uncertainty it brings to designers across Britain," Law commented. "We created an original product in Trunki and protected it by computer generated registered design – a process used to protect a third of designs across Europe."
Judge Lord Neuberger said that the reason behind the Supreme Court ruling was that the case was about a design, not an idea. Law had asked for protection under the Community Registered Design legislation, which only deals with designs.
"It is a conclusion I ... have reached with some regret, as the conception of the Trunki, a ride-on wheeled case which looks like an animal, seems to have been both original and clever," he admitted.
James Sweeting, senior associate at law firm Lewis Silkin LLP, explained that the 'landmark ruling' by the Supreme Court has cast serious doubts on the value or RCD protection in the UK. "It feels like another public policy decision which has gone against the creator of an innovative British product," he commented.
Sweeting added that the Supreme Court expressed its sympathy for Law, but the ruling will have a negative impact for designers. He explained that the effect of the judgement means the scope of protection for registered designs is made narrower in the UK.
The ruling is thought to have deep implications for the future of design and copyright. Law said he was devastated, saying the judges were "effectively sending knights into battle without armour" by not protecting the copy.
However, Law was warned about the fact that the Trunki design would be hard to protect. In 2006, the entrepreneur appeared on the BBC's Dragon's Den and was told that the product was not patentable.
Serial entrepreneur and multimillionaire Peter Jones told him: "This type of product is not patentable. You think you have something. I tell you, you don't."
Because Law's prototype was easily taken apart by one of the Dragon's Den angel investors, Jones went on to say that his company is currently worthless because someone could easily copy the design and improve the product.
Law was unsuccessful on Dragon's Den because of the faulty design. He however bounced back from the initial setback going on to sell over 60 million Trunkis in 80 countries.